See How Much and Where EDM Fans Travel for Events in New EDM.com Survey
By Tendelle Sheu
In August, we ran a questionnaire to EDM fans on their preferences, event-attendance habits, and festival travel behaviors. We surveyed almost 1,400 readers, 70% of which were based in the United States. And the results were fascinating. This is the second installment of a 5-part series of the findings.
EDM has risen quickly in the US to become the music of the millennials. Just how into EDM is this generation? Apparently, into it enough to be willing to travel long distances to attend events!
Two out of every three American EDM fan (66%) have traveled in order to attend an EDM event in the past year, where the definition of travel is at least two hours to reach the destination one-way (we'll refer to them as "EDM Trips"). To put this in context, two hours is the distance between cities like Los Angeles and San Diego, or New York and Philadelphia – fans are traveling to different cities in order to see their favorite dance music artists. Compare this to the only 38% of Americans who take any leisure or business trips in a year, according to a Skift study in 2014.
Counting the number of EDM trips that fans have taken in the last year shows a third (32%) of EDM fans taking one or two EDM trips. Another third (34%) took at least three EDM trips in a year and 17% were very dedicated fans that took more than 5 trips a year!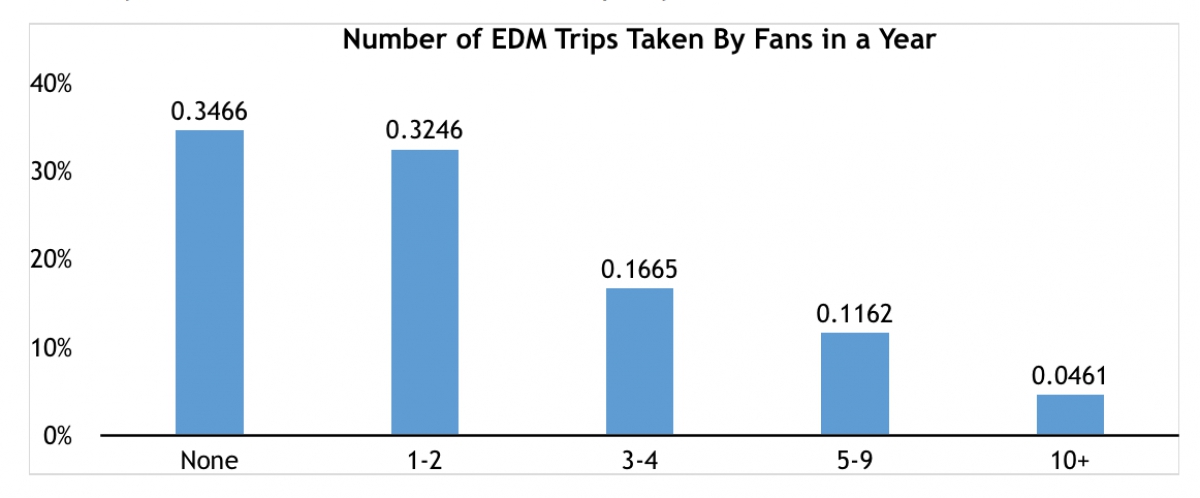 Source: EDM.com 2015 Survey
EDM travel has the unique characteristic that it is, for the most part, revolving around the weekends, as shows are rarely planned for the weekdays. By the survey results, half (50%) of all EDM trips last one to three days in duration and are thus implied to be weekend city trips.
Day trips (or rather, "night" trips) to EDM destinations is also fairly common; a quarter (26%) of trips taken are less than 24 hours, implying that the attendees likely go straight to the event and back without staying at a hotel overnight at the destination.
Lastly, the remaining quarter of trips (24%) are "longer vacations" that span beyond the weekend, to last at least four days. These attendees likely go to the destination primarily for a festival or event, but also take days off work or school to turn the trip into a longer vacation.
Although the majority of fans are willing to travel domestically for shows, only 4% have traveled internationally for EDM. Of those that have, Toronto, Ibiza and Amsterdam are the most popular destinations.
These destinations are at the top of American EDM fans' lists thanks to their proximity and reputation for dance music. Toronto is relatively close to the US, just a one-to-two-hour plane ride from the East Coast and home to the annual EDM summer festival, Veld.
Ibiza has long been known as the world's top EDM destination, with the world's best clubs and hottest DJs gracing its decks every night over the summer.
Amsterdam is in many ways the dance music capital of the world, not only hosting the industry Amsterdam Dance Event every fall, but also the home base of many DJs in a scene that's overwhelmingly Dutch (Hardwell, Armin van Buuren, Tiësto and Martin Garrix, to name a few).
Read Part 1 of the study and stay tuned for the next installments of original results on EDM audience demographics, decision drivers, and event attendance habits.