Cedric Gervais and Electric Family Are Bringing Joy to Miami Children's Hospital
Cedric Gervais and Electric Family have partnered to bring something special to the children at the Miami Children's Hospital.
Cedric and Electric Family will be hosting a toy drive - fans will have the opportunity to do a meet and greet with Cedric and the EFam crew in exchange for bringing a toy to donate.
All the toys donated will then be brought to Miami Children's Hospital, where they will host a mini dance party for the kids and distribute the toys.
The toy donation/meet and greet will be hosted on Thursday, March 17th at 10:30am in the lobby of the Intercontinental Hotel in Downtown Miami across the street from Bayfront Park/Ultra.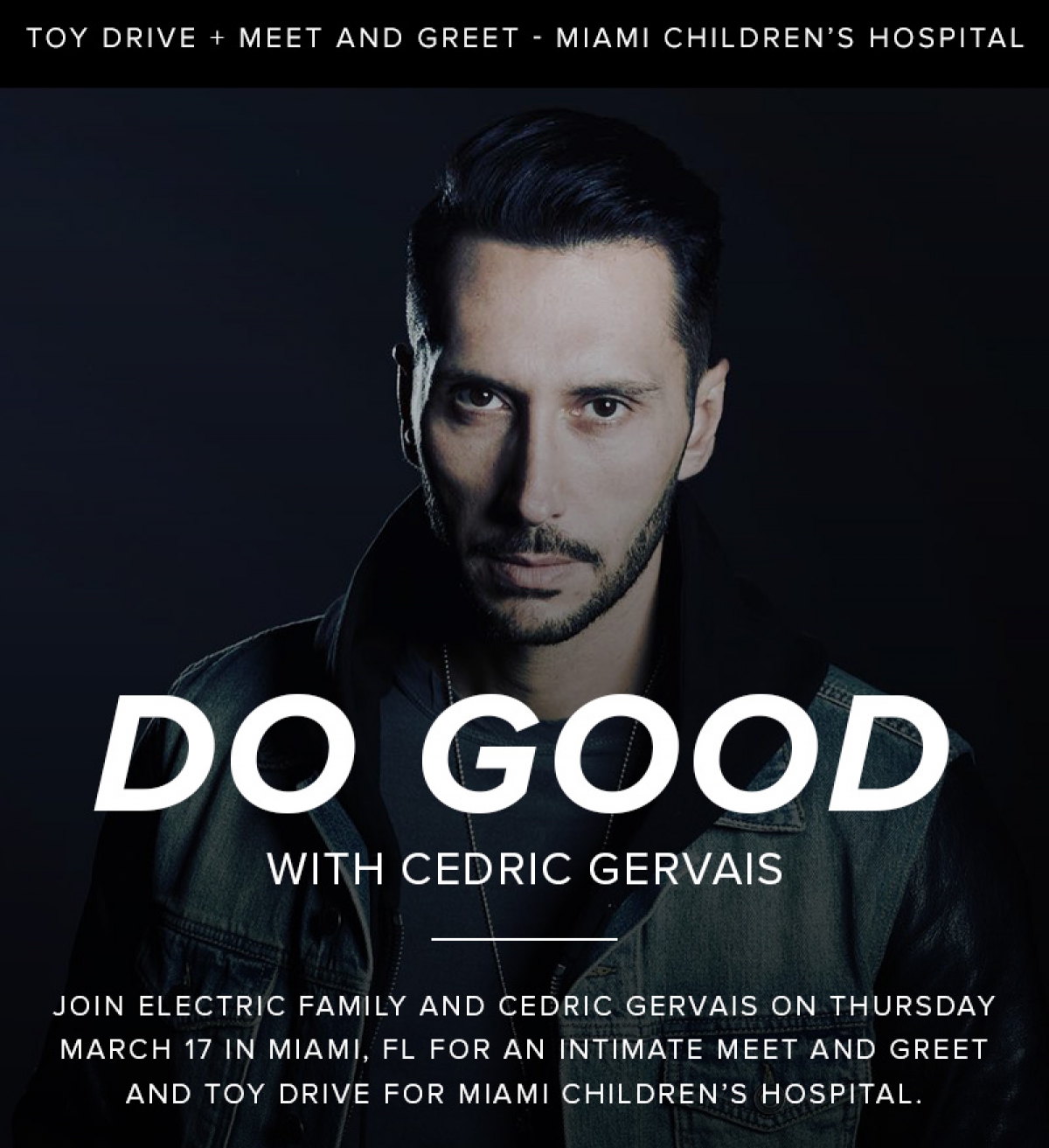 The address of the hotel is:

Intercontinental Hotel Miami

100 Chopin plaza
Miami, FL 33131
Recommended toys and donation guidelines from Miami Children's Hospital:

Teen Age Group:
Tech-Savvy Knick Knacks
Activity Kit
Art Supplies
Jewelry / Bracelet Making Kits
Puzzles for Teens
Lego Architecture Sets/Engineering Sets
Remote-Control Cars/Boats/Planes
Pro Sport Items/Gift Items
Sports Balls
Table Top Tennis/Foosball/Air Hockey / Dartboards, etc.
Board Games /Word Games/Card games
Fuzzy socks (nice hospital socks)
Journals & Book
Body Spray
Make-Up & Nail Polish Sets
Claire's Accessory Kits.
Infant & Toddler Age Group:
Developmental Toys
Stuffed Animals (w/out beaded eyes)
Mobiles & Musical Crib Soothers
Toddler Bottles/Pacifiers
Rattles/Teethers
Blankets/Bibs/Socks/Headbands
School-Aged Group:
Up-to-date Action Figures
Baby Einstein Developmental Toys
Legos
Cars/Trucks
Characters (Popular) from Games & Movies  Disney Products
Dolls
Play Sets
Fisher Price Toys
Sports Items
Activity Kits
Stuffed Animals
Other gift ideas:
*GIFT CARDS
American Express/Visa/Master Card Amazon
Best Buy
Target
Toys R Us/Babies R Us
Electronics/music gift ideas:
Earphones
DVD's (no rated R) (English/Spanish) Musical instruments for children
Books:
Baby Books
Board Books
I Spy Books
Sound Books
Teen Chapter Books
Activities, arts & crafts:
Boxed Puzzles (for all ages)
Coloring/Sticker/Activity Books
Art Supplies – Painting & Coloring
Construction/Engineering Sets
Crayola Activity Packs
Crayola Crayons/Markers Play-doh/Play-doh kits
School Age-Lego Sets
Sticker Books
Electric Family and Cedric are asking their fans and supporters that are going to be in the Miami area to come out and help donate some toys to children in need. The EDM community coming together to make positive impact on the sick children in Miami!