Point Blank Presents: Breaking Into EDM [Ep. 023 - Kaptain]
EDM.com has once again teamed up with the award-winning Point Blank Music School to present Breaking Into EDM: where your favorite artists and industry-insiders share words of wisdom, tips of the trade, and personal stories of making it and breaking it.
This week we hear from California-based producer Kaptain. Fresh off the release of his When The Sky Shimmers EP, the up-and-comer sat down with us to chat good advice, bad advice, and what it actually means to 'make it' as an artist.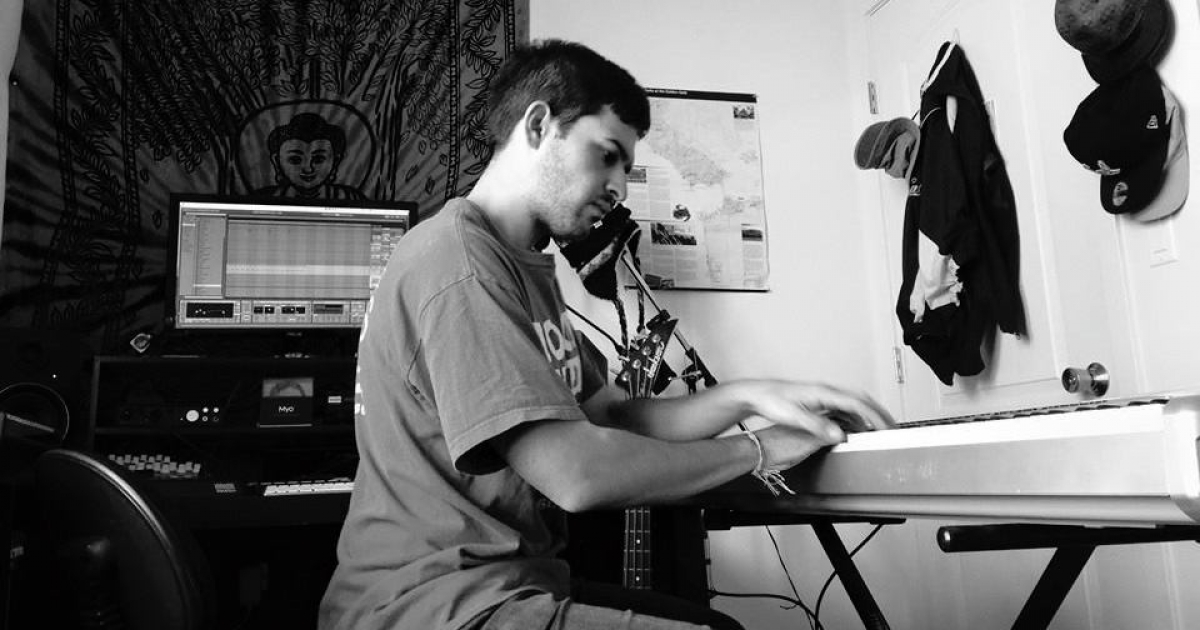 EDM.com & Point Blank: In three words how would you describe your sound?
"Psychedelic groove party."
EDM & PB: What's your musical background like? How did you get involved in electronic music?
"I've been involved with music since I was six. I've taken lessons and performed with a bunch of instruments: piano, viola, vocals, classical percussion, drum set, and jazz percussion. I've played solo, in orchestras, in string quartets, big bands, jazz combos, choirs, marching band, rock bands, percussion ensembles…the list goes on. I did most of that until I went to college at UC Berkeley. I tried to keep taking some lessons there, but it was hard to keep up with practicing and stuff in a dorm and with a lot of homework. I had already started to experiment with making sample-based beats in high school, so I just started to make music on my computer. I could do it at any hour, I could do it with earphones in… I could even do it between class. I needed a musical outlet, and I had just started to listen to electronic music and go to shows, so it just made sense."
EDM & PB: At what point will you consider that you've 'made it' as an artist?
"I try to avoid that thought because I've read interviews from massive artists where they mention how they are always trying to push to that next level. I think a hungry artist is probably never satisfied. The things that make me really happy are when I get a message like, 'dude I showed this track to all my friends at our house party and we got down to it,' or conversation where I can help a budding producer by giving feedback. If you want to know the type of stuff I daydream about, I'd really like to play at my favorite venues – Red Rocks, Golden Gate Park in San Francisco, the Berkeley Greek Theatre… these are all places where I've had insane musical experiences. I guess I've 'made it' when I can provide the full experience to people that originally inspired me to get into this whole thing."

EDM & PPB: Can you tell us a little about your new EP?
"The title means something specific to me, but I think in the most general sense – When The Sky Shimmers represents a moment that you've experienced that is surreal, defies words, and is so uniquely amazing that all you can do is exist in that exact moment…it won't happen again.
As far as the music… the overarching goals were to make it include a lot of live instrumentation and involve a lot of collaboration. Most of the tracks originated from a jam with Brizzy and evolved over time, and went through a lot of different versions. I wanted to create something that paid homage to the golden era of the neighborhood that I live in – the Haight-Ashbury in San Francisco. An example of that is in the phaser'ed, trippy sounding guitar intro of 'When The Sky Shimmers.' I also wanted to keep it somewhat 'futuristic'…a good example of that is the rhythmic chords on the drop of 'Every Day of the Week.' Lastly, I wanted to make music that was performable…not really DJ-able."
EDM & PB: Do you have a personal favorite track off of When The Sky Shimmers?
"I like them all! If I had to choose, I would choose 'Testament'… only on the basis that it is the most collaborative track on the EP. I had two recording sessions with Grant Genske to record the vocals (he also wrote a lot of the basis for the song), and received multiple iterations of horn stems from the dudes over at Willdabeast. It is super fun to have to coordinate all of that and have it turn into something great."
EDM & PB: What's next for the Kaptain project?
"I'm starting to put way more of my time towards hammering out all of the details of my live performance. I've already had multiple sessions with Brizzy (the guitar genius behind Kaptain) to start to piece things together. There is still a lot more work to be done though – hopefully you guys will get the chance to see it sometime soon. I also might be doing a little side project with Willdabeast over at Superbest Records."
EDM & PB: What tips would you give an aspiring artist on breaking into the scene?
"Make music that you want to make. I know it's a pretty common one, but it's so true. If you can't get excited and inspired by your own stuff, then why make music? I was afraid to make the music I truly wanted to make because I thought I wouldn't be able to. I made music for a while that was cool… but kind of predictable and fit more easily into a formula, and one day I was just like…wait what's actually stopping me? But keep in mind – when you start to make the music you truly want to make, it doesn't sound great right away, but it's all good!"
EDM & PB: What is the best piece of career advice that you've ever received?
"Surround yourself with good people - people who actually care about what you are trying to accomplish creatively and give you that space."
EDM & PB: And the worst?
"I've been lucky enough to surround myself with people that give me good advice. If I had to think of something, I guess early on I had the idea that I needed a record label to progress in the scene. I'd say that it's generally not true, and there are a lot of labels that kind of prey on young, desperate artists. I never really had any issues, but I definitely was in close proximity with that kind of a thing."

Stream When The Sky Shimmers above and grab your free download here!
For more inside tips and expert advice on everything music industry, check out Point Blank Music School, with courses in London, Los Angeles and online. The award-winning electronic music school boasts former students including Claude VonStroke, Nicole Moudaber, AlunaGeorge, Plastician, and many more. Catch this week's production 'Quick Tip' below and head to their site to sample a course for free.