You've Seen it at Festivals, Now it's Taking Live Events Next-Level [VIDEO]
The minds behind one of EDM's most awe-inspiring stages are expanding and changing the electronic music community as we know it. But before we launch into what they'll be bringing to 2016, we have to go back to where it all began: Burning Man 2014.
Alan Rushlow and his partner Michael Freelander wanted to build something truly spectacular for the annual gathering in Black Rock City, something that would transport burners to another dimension. Enter Diskopella, a mutant vehicle with a 14-foot tall disco ball that spit fire balls 50 feet into the air. The Diskopella was a mobile nightclub that could hold 100 people, but Rushlow quickly realized this wasn't enough. It was their first major original contribution to the world of large-scale production and stage design, and it was only the beginning.
Rushlow began his career in production for live events and concerts in 1995, working with Roofless and Together productions in Colorado. His first productions company, Pureform Atmospheres, was responsible for the infamous Elements Series (2001) and produced Global Dance Hawaii (2006). He went on to produce show concepts for Disco DONNIE Presents, Life In Color, Wakarusa, EDC and all of Triad Dragons/Global events, to name a few.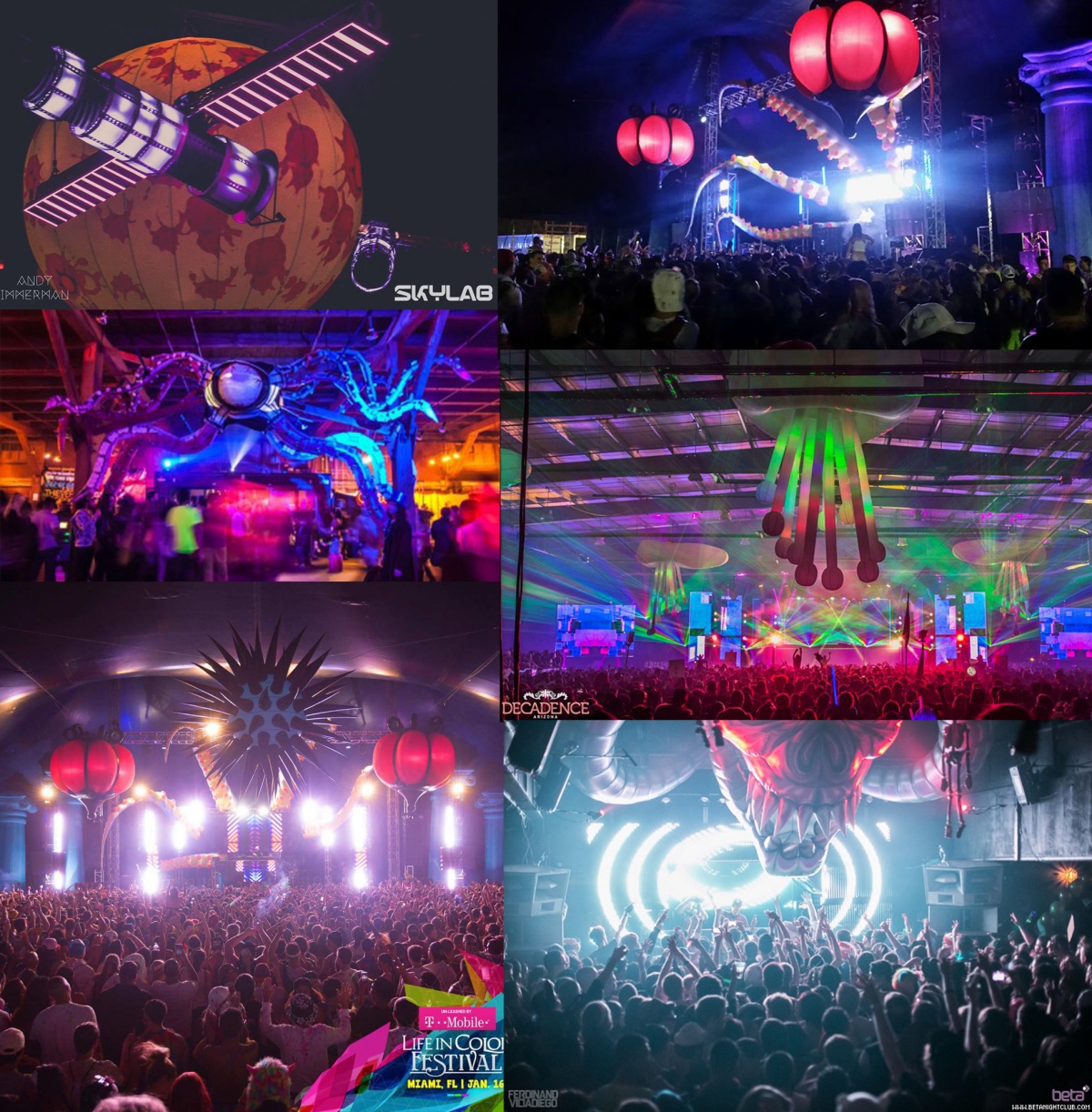 It wasn't long after leaving the desert in 2014 that Rushlow began blueprinting an expansion of the Diskopella into a full arena. The stage consists of six 22-foot towers surrounding the famous, fire-hurling disco ball from Diskopella. Each tower is covered in LED video screens and - like the disco ball - each is equipped with its own pyrotechnic system that blows fire. As described by the mastermind himself, it's a "mind altering, audio/visual sensory arena designed to unify crowds."
Appropriately named the Diskoportal and built in conjunction with Norad and their FAZE 2 Turbosound system, the immersive stage is brought to life by music, effects and performers... but what really activates it is the audience. After all, the audience is the life blood of this vibrant music culture.
The innovative arena and the message it carries sparked Rushlow, along with his fiance Courtney Conatant, Freelander and their team of 10 to launch Mobius Creations, a Colorado-based company focused on creating experiences within electronic dance music that put the focus and emphasis back on the community. In order to bring people together and empower them as a community, they envisioned mind-bending atmospheres that inspire and incite a sense of awe and wonderment, reminding us all of the infinite beauty this life has to offer.
The fully realized Diskoportal Experience is making its official debut during a community Friday, March 11th at the Glitter Dome in Colorado. For one day only the Diskoportal will come alive, and the machine will be activated.
Mobius Creations has teamed up with Beta Nightclub, Norad Dance Bar, Party Guru Productions, Mahesh Presents and Matt Carmichael at The Firm Graphics to bring some of the hottest electronic music talents including Mixmag's "Star of the Year" Claptone, Dirtybird's Ardalan and Berlin's own breakout star Oliver Dollar. Colorado's own Casa Del Soul will also reunite for the first time in a decade! Norad's legendary FAZE 2 Turbosound system, comedy, theatrics and jaw-dropping effects will all add to the magic, but it's going to be you, the audience, that will make ultimately make this night go down in history as a most transcendent experience.
"We invite the public to join the experiment and submerse themselves into a parallel universe."
RSVP on Facebook: https://www.facebook.com/events/455276694667314/
Purchase Tickets: https://nightout.com/events/the-diskoportal-experi...