Beatport Is Returning To Its Roots To Serve DJs and Fans
Beatport has announced that it will soon be terminating several of its services.
Beatport, which began as an online music store – which delivers high quality music formats and exclusive releases to audiophiles – has announced that the company has decided to downsize.

Originally purchased by Robert F. X. Sillerman's SFX in 2013, Beatport expanded its services to include News, Video, and streaming music. Its future became unclear, however, after SFX filed for bankruptcy in early 2016.
The global brand which has offices in San Francisco, Los Angeles, Denver, Berlin, and LA, now faces financial uncertainty. The company which was up for public auction has faced several complications including extended auction deadlines and eventually a suspended sale.
Beatport released an official statement this morning:
Today, we have an important update regarding the Beatport platform and the services we offer.
When Beatport was acquired three years ago, part of the vision was to create a broad digital platform for DJs to engage fans of electronic music wherever they may be. The original Beatport Store and the Beatport brand became the foundation for this vision, upon which we added a streaming music service, mobile app, a video livestreaming platform, and a relaunched news and media property.
We have learned through this process however, that in our effort to be so many different things, we lost focus on bringing the best possible service and capabilities to our most loyal customers: the DJ community. As such, we have determined to invest in what is most important to our business and our customers, rather than adding yet another choice to a sea of streaming services.
This means we will be shutting down the Streaming service and mobile app, Beatport News, the Video livestreaming platform, and the Events section effective May 13, 2016. Additionally, while we plan to continue considering offers for Beatport, the previously detailed auction process will be suspended for now. We'd like to give our heartfelt thanks to all of the loyal listeners, readers, and viewers who have come to enjoy these services over the past year, as well as all the labels, artists, and promoters who have participated in them.
Going forward, we will refocus our attention and resources on our flagship business, the Beatport Store. We've already made noticeable improvements in site performance, with our most-used features (track, release, artist, and genre pages) running up to 51% faster.
For over 12 years, the Beatport Store has served DJs and the electronic music community. As a new generation of artists, performers, and sounds develop and grow, inspired by the leaders of today and the past, the Beatport Store will continue to be there to support the music and inspire the community.
— The Beatport Team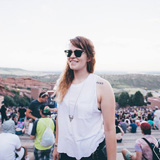 Devin Culham
Born and bred with the Detroit techno scene, I pledge my allegiance to the underground.