After Feeling the Heat DJ Mag Editor Responds to Backlash
DJ Mag made headlines last week after their controversial covering featuring 25 pioneers of electronic music.

The cover meant to recognized 25 pioneers of electronic music from the past 25 years of DJ Mag coverage. Arts and fans alike went into a frenzy over the sausage fest of 'pioneers' and DJ Mag immediately began to take heat for the explicit exclusion of women.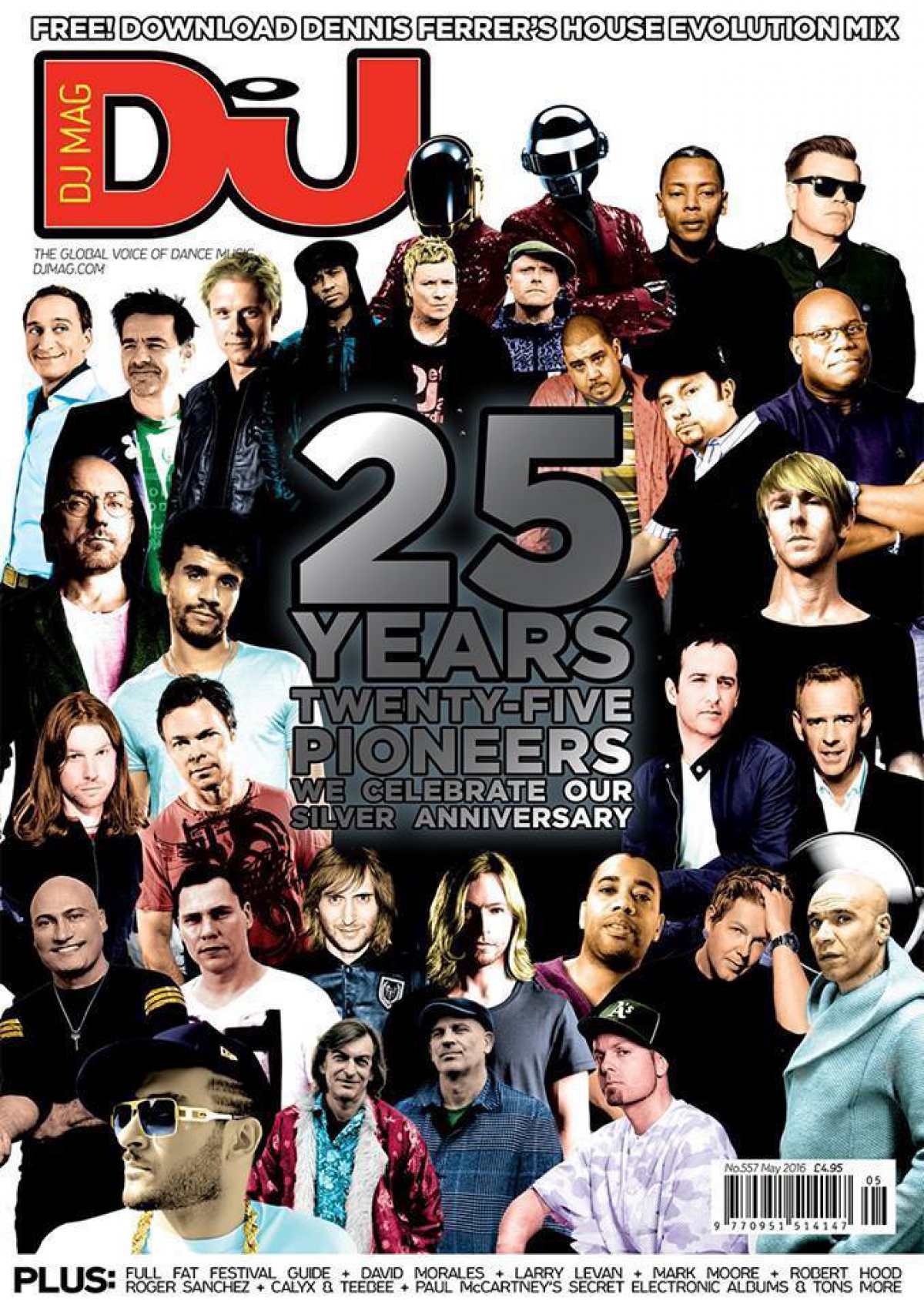 Following the original debut of the cover, Editor Carl Loben mentioned that DJ Mag was self-aware of the exclusion of women, but did so in an effort to avoid 'tokenism'. Although in the eyes of Loben this was framed in a way as to uphold DJ Mag's position as "musical authority", the result were some very disgruntled artists including Chicago's The Black Madonna.
Following the cover's release, DJ Mag editor Carl Loben wrote an op-ed in the UK's Huffington Post to respond to the heavy criticism that the publication received.
Regarding the publications criterion for selecting the 25 pioneers, Loben had this to say:

"...For the 25th anniversary of DJ Mag, though, we had some very distinct criteria to be one of the chosen 25 pioneers. The pioneer had to have been a DJ/producer on the cover of DJ Mag in the past 25 years, and had to have pioneered something that's changed the landscape of the scene within the past quarter of a century. This criteria immediately discounted the early pioneers of techno and house music, because they did their main pioneering work before 1991.
...This 25 pioneers feature is historical, and historically women have been under-represented in dance music. That's one of the reasons why DJ Mag ran a Women In Dance Music special a couple of months ago."

Through a purely historical lens, the exclusion of women in DJ Mag's list of pioneers is representative of the struggles that women face particularly in electronic music. To be without a 'true' woman pioneer is an illustration of the structures in place that marginalize women's achievements, which Loben also addressed:
"Retrospective positive discrimination wasn't going to serve anybody, but the history books are full of privileged white men and all too often the contribution of women is overlooked or marginalised. Looking forwards, there needs to be prominent female role models in all walks of life - particularly electronic music - and DJ Mag needs to continue to play its part in our scene.
For that reason, I now believe it was a mistake not to include any women on our 25th birthday cover. It's not a great look to have such a 'sausage-fest' (a load of forty- and fifty-something blokes), especially now that increasing numbers of women are DJing, producing, promoting, managing, running labels and so on more than ever. Even though a lot of women are doing things on their own terms, there's still sexism in the industry - whether that be labels just featuring bikini-clad babes on their CD covers, female DJs being judged by their looks over and above their music, or whatever. DJ Mag's very own Top 100 DJs poll - voted for by the public - threw up some horribly sexist responses from high-profile international DJs late last year when we asked them why there aren't more women in the Top 100 ("They should spend less time in the make-up store", and so forth). Sexism in the industry needs to be challenged, at all levels, and we should've recognised that women often have to work twice as hard - and be twice as good - to 'make it' in electronic music. The struggles some have experienced - the comments, the abuse - needs to be recognised and called out. The dance scene without women is unthinkable."
DJ Mag, we accept your apology. We hope that as an industry, women will continue to be a main fixture in electronic music so that producers and DJs will be solely recognized for their skills rather than their physical features.