10 Things We're Excited About For Movement's 10 Year Anniversary
This year we celebrate Paxahau's 10 year anniversary of Movement Electronic Music Festival. After taking over the reins of the city's formerly free Detroit Electronic Music Festival, Paxahau has brought the talent and the buzz back to Detroit for what can only be considered a truly unique event.

1. The Talent
Movement is known as being a platform for the breaking artist. With a history of building the early careers of EDM's biggest names including Skrillex, Deadmau5, Pretty Lights, and Bassnectar. But don't expect a bunch of big name, press-play DJs, Movement is all about the underground, baby.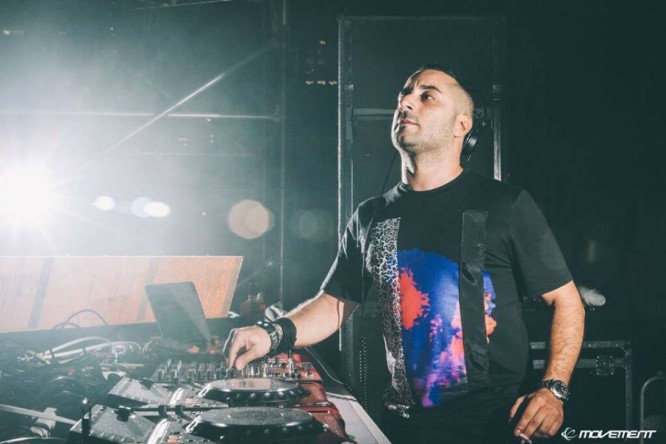 Featuring both the techno heavy hitters, and up and coming house acts, Movement brings talent from across the globe. With acts that normally don't appear on American soil except for high brow performances at Miami Music Week or Brooklyn night clubs, headliners at Movement's main stage include buzz worthy artists Joseph Capriati, Adam Beyer, Loco Dice, and Maceo Plex.
2. The Afterparties
Because Movement takes place in Downtown Detroit, the festival does end at midnight so as to not conflict with the city's noise ordinances. However, if you don't get your full of talent during the day, there's plenty of music that will keep you moving until the sun rises. The talent at the afterparties rivals the festival itself, so to help you from having to make too many tough decisions here are our picks for the best after party each night! Check out the full list here!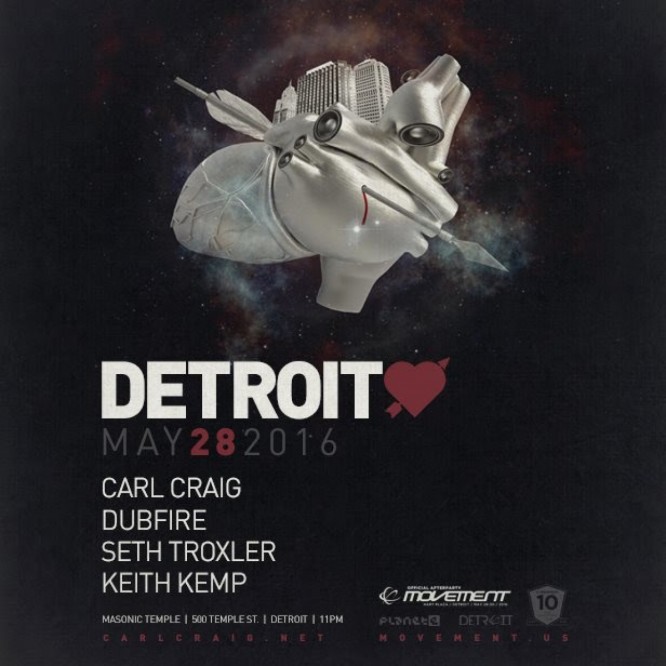 Saturday 5/28 - Detroit Love featuring Carl Craig, Seth Troxler, and Dubfire
Sunday 5/29 - Paradigm Presents: Social Experiment vs Visionquest
Monday 5/30 - The Official Movement Closing Party ft. Tale of Us and Âme
3. Kraftwerk - Live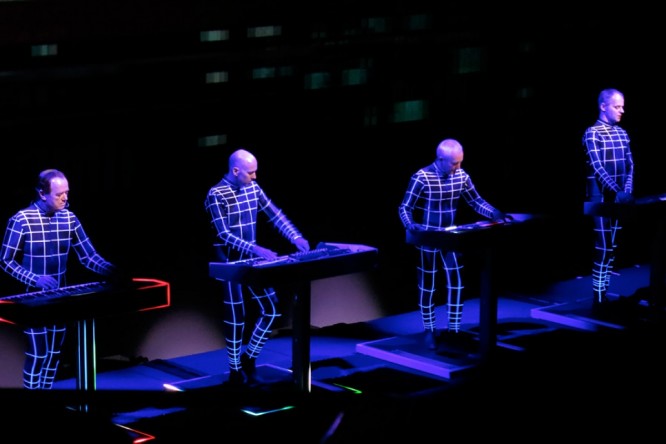 Kraftwerk alone is something to get excited about. The German trio first began using synthesizers to create music in early 70's, establishing their roles as influential players in the development and evolution of early electronic music. Without Kraftwerk, electronic music as you now know it would have never existed. Pay homage to these greats on their Saturday live performance at Movement.
4. The People
If there's one thing that Detroit doesn't lack, it's soul. Movement has always been a community-centric event where each year individuals from Detroit can celebrate something that is unique to them. Each Memorial Day, the concrete jungle turns into an urban paradise with people showcasing their art and talents. Don't be surprised if you see a uniformed officer, breakdancing. That's just part of the charm.

5. The Showcases



(A sweaty performance by Nina Kraviz at Movement's Underground Stage 2015, courtesy of Beatport)
This year Movement is featuring specially curated showcases that offer the opportunity to take in a different side of Detroit. With showcases from Skrillex's OWSLA label, Richie Hawtin's PlayDifferently, and a whole stage devoted to acid sets with early pioneer DJ Pierre and modern twists from acid queen Nina Kraviz and genre-chameleon Boyz Noize.
6. The Locals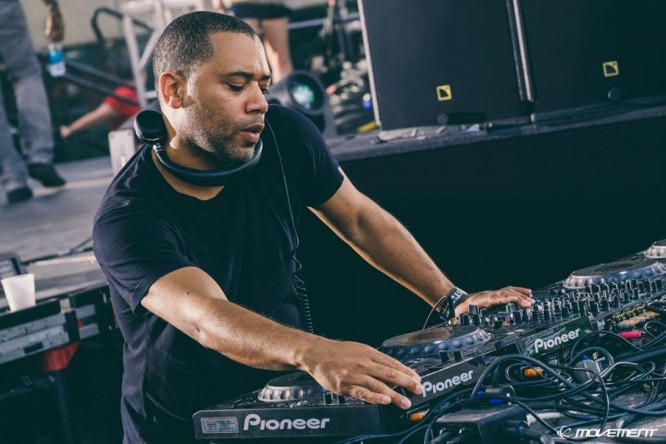 (Carl Craig performing at Movement in 2014)
Movement would be nothing if not for the local Detroit talent that helped to pave the way for the rest of the electronic music industry. Techno originators Kevin Saunderson, Juan Atkins, and Carl Craig will all be performing, in addition to the Thump's Made in Detroit stage and Opportunity Detroit which feature both Detroit's OGs and the Motor City's rising stars.
7. The Yoga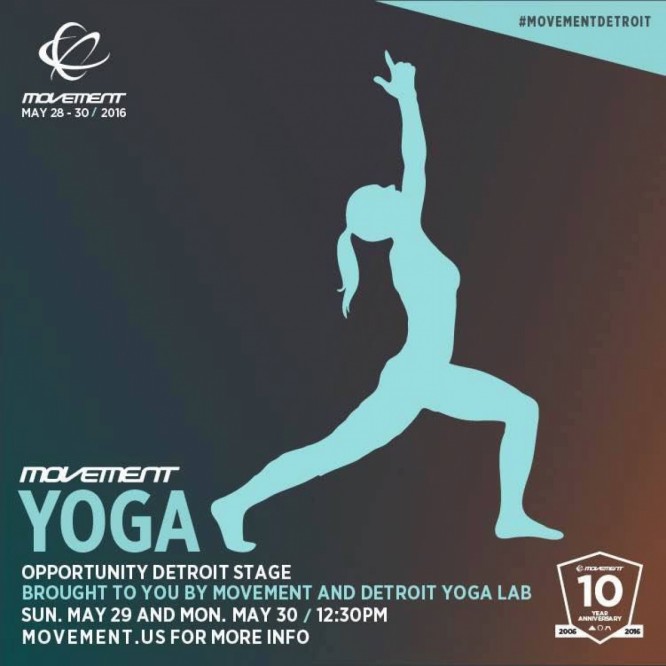 This year, the festival is debuting Movement Yoga on Sunday and Monday of the event featuring a classes from some of Detroit's best yoga instructors. After three days of two-stepping on hard concrete, your body will thank you for taking the time to lubricate your sore muscles and rusty joints. In partnership with Lululemon, early attendees will receive a free mat! So get there early!
8. The Industry Talks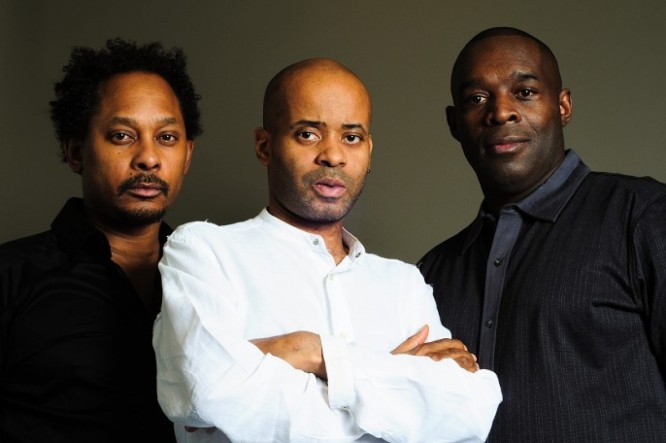 (From L to R: Derrick May, Juan Atkins, and Kevin Saunderson)
Movement is an opportunity for individuals in the underground music scene to trade music banter and network with other industry people. But that doesn't mean there isn't something to be gained by attendees. On Saturday there will be a panel with techno godfathers Derrick May, Kevin Saunderson, Juan Atkins at Detroit's Museum of Contemporary Art, where you can listen as some greats drop knowledge on the history of the electronic movement.
9. The Food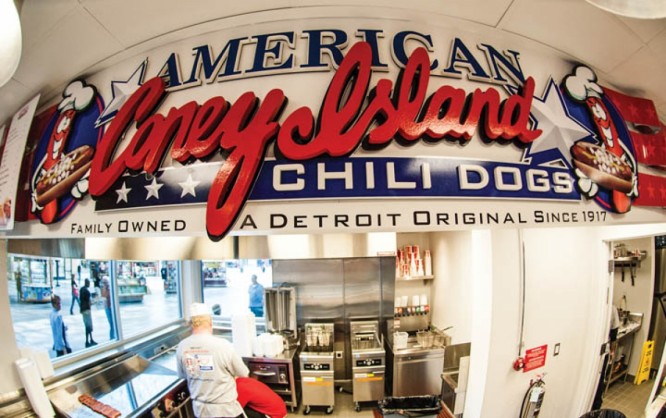 Detroit might not be the first place you consider when it comes to food, but you won't want to miss out on the Coney Island experience. Operating since the early 1900's, rival restaurants American Coney Island and Lafayette Coney Island serve up some of the best chili dogs in the midwest that will satisfy your late night appetite.
10. The Skyline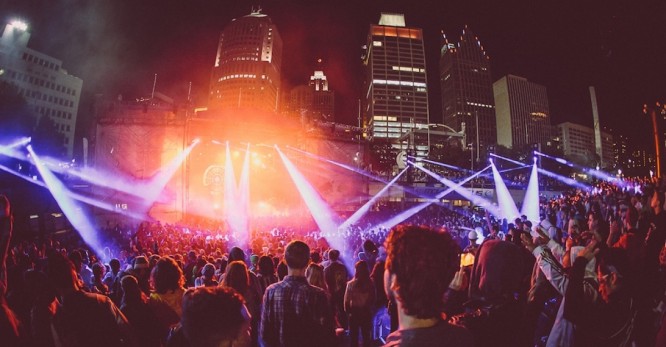 As one of the largest cities in America, the Detroit river is the only thing separating Movement from the Detroit and Canada. The festival's urban vibe is supported by Detroit's cityscape painting the background of the festival. You may come to Detroit for the Movement, but you'll find yourself returning to the festival because of the vibe of this truly unique music experience.