deadmau5 Rips Into Avicii, Talks Real Live Performance
deadmau5 has been on a bit of a tear this past week, taking shots at artists, labels, events, and even us on Twitter with his hilarious #acromau5 acronyms.
Our intrepid social media manager #acromau5ed deadmau5 himself, and apparently he approved, cuz he immediately copy pasted it into his own tweet: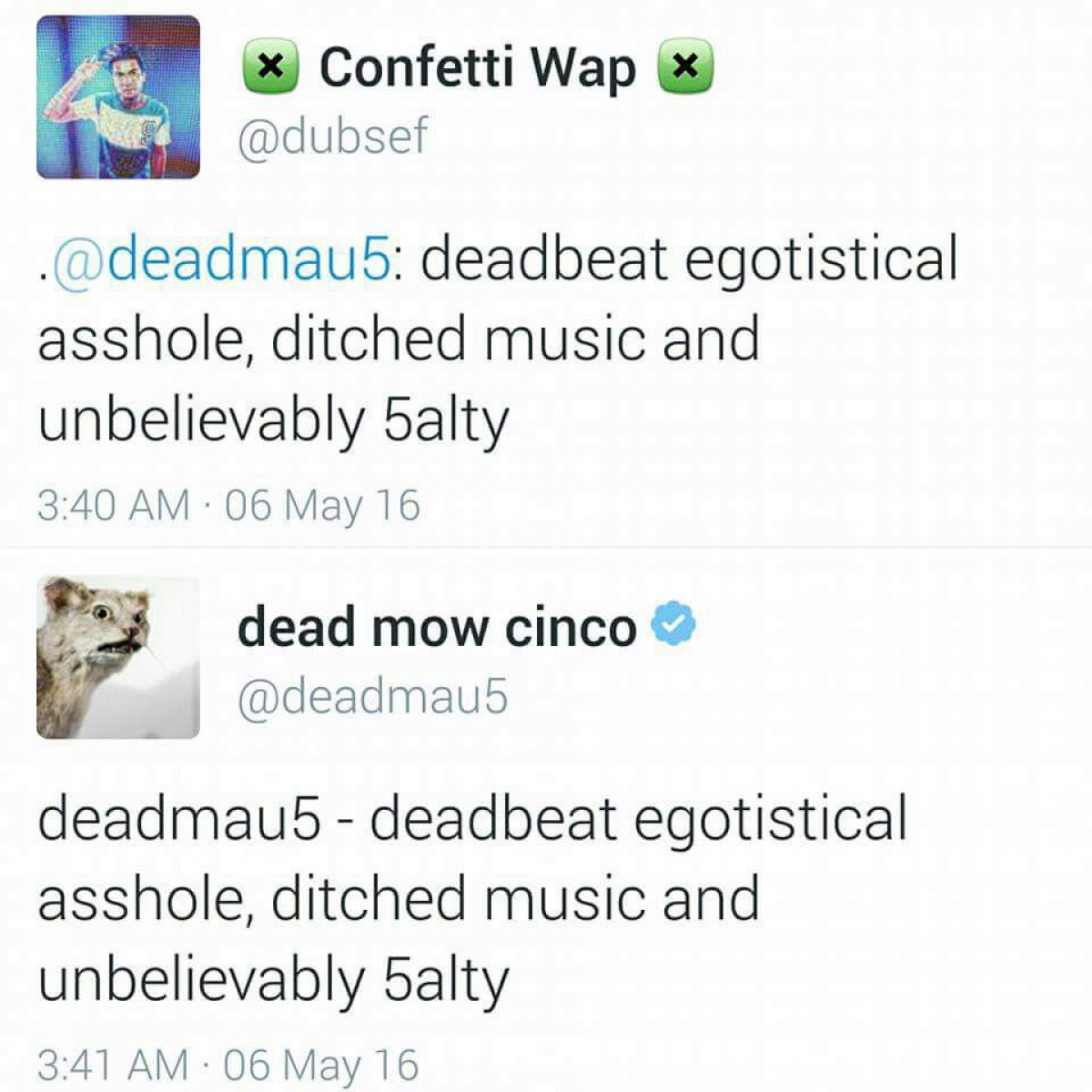 While some or most of those tweets were clever, lighthearted piss takes, he seems to reserve a special, genuine distain for Avicii.
In a recent interview with Music Times he took some shots at the soon to be retired superstar.
When asked about how live performance factors into his own artistry, and how he feels about Avicii's retirement, he was brutal.
deadmau5: "How does live music and Avicii f*cking go together again?"
Music Times: "Well, because he's retiring from live music."
dm: "Oh he's retiring. Well yeah, he is really old (laughs). I mean, he's pushing what? Twenty-five? Something like that. Like sh*t dude. Holy f*ck. That's crazy man. I can't believe, like, he worked that long. It's such a well-deserved retirement. I mean, you've gotta retire, you've gotta retire. I've considered, you know, selling the farm to Disney at one point."
When asked if live performance is crucial to what he does, he made a point to differentiate himself from the pre-recorded set trend of mainstream EDM.
dm: "Yeah. I mean, it's not crucial to EDM. I mean, you just go up there and play a CD, and, uh, rock a crowd. You know, that's your job. But, I like to perform live -- I like to do stuff live, cause it's my sh*t."
On the topic of the evolution of his own live show, he got into some detail about his own passion for bringing a unique experience to the show with stage production, and a focus on new technology and new products he's stoked about.
dm: "It's evolved in the sense that, you know, we stepped up stage production. I'm using a lot of new products, you know. Like, I'm really keeping my eye on production design stuff. This year is the year of Ayrton, they're a lighting company. They create these products called magic bars, magic panels, they've got a different magic thing -- magic blade. You know, you go to a typical show and you look at there production, and a lot of them, it's just like "oh, I really liked the video content," and stuff like that. But you know, I go one deeper. Like, what resolution is that video wall?"
If you want to see more of the details, and some of the other topics covered, go check out the full interview over at Music Times.