4 Remixes Taylor Swift Should Hear to Get Over Calvin Harris
Calvin Harris broke up with Taylor Swift. Boo-hoo.
But hey, ultimately this is a good thing for Taylor Swift fans, right? Like, she'll take her raw emotions to her sappy soap box and release a whole new album about the fact that the 6'6" Scot broke her heart. She'll probably event get a Grammy for it.

So cheer up Tay-Tay, here's 5 EDM remixes to help you get over your heartbreak. </3
1. R3hab - Wildest Dreams (Remix)
2. Manilla Killa - 22 (Edit)
3. Crysis - Shake It Off Remix
4. Tiësto & Dimitri Vegas & Like Mike vs Taylor Swift - Whisper (Both of Us) Remix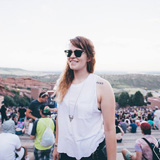 Devin Culham
Born and bred with the Detroit techno scene, I pledge my allegiance to the underground.