9 Poolside Tracks That Will Keep The Summer Vibin'
The weather is getting hotter, the sun is getting higher, and the livin' is gettin' easier.
To help you start feelin' those summertime vibes, we've curated 9 tracks that are gonna set the tone for those relaxing and carefree days. So dive into some brand new music that is gonna make you feel some kind of way.
1. Ronzel - Bittersweet (ft. Josh Rubin)
2. Cyrus Thomas - Breathe It In (ft AWR)
3. Dirty Nights - Naked Dream (ft. Heartbeat)
4. CharlestheFirst - Descent
5. Evence - Emotions
6. SVDKO - Innocence
7. Cosmic Quest - Blue Embers
8. Anth M - Stay Close
9. Barrett Marshall - Something About You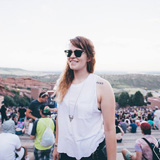 Devin Culham
Cut my teeth with the Detroit techno scene before moving to Denver to see what the mountains have to offer.