The Best EDM Events for Getting Down July 4th Weekend
By Harvit Gill, Contributor for EDM.com
July 4th may fall on a Monday this year, but that doesn't mean you can't celebrate independence in the land of the free all weekend long! We've gathered a list of the places to be this weekend all across the beautiful US and A for this year's July 4th Roundup!
YES // 4th of July BBQ Extravaganza // FREE!
Celebrate Independence Day the real American way with a classic BBQ Extravaganza, DJs, dancing and friends! This 21+ event takes place Monday, July 4, 2016 at 2:00 PM and goes until midnight at Brooklyn's House of Yes! Go to 2 Wyckoff Avenue, Brooklyn, NY for a lineup of local DJ's and BBQ (vegetarian options available)! The best part is that it's easy on the pockets. No cover. Just food, drinks, music and friends!
https://www.eventbrite.com/e/yes-4th-of-july-bbq-e...
HYTE FESTIVAL
HYTE returns this Independence Day weekend for a massive 2-day party spread across 3 floors of the outdoor and indoor Brooklyn Hangar location. HYTE will be bringing a selection of international house and techno heavyweights such as Dubfire, Loco Dice, Chris Liebing and Danny Tenaglia just to name a few! Get your red white and blue on at the Brooklyn Hangar (2 52nd Street, Brooklyn, NY) for numerous back-to-back and extended sets. Check out the full lineup below!
https://www.residentadvisor.net/event.aspx?810910
Skrillex at XS Sunday Nightswim & Encore Beach Club
Vegas is the place to be for independence day this year! Come out Sunday Night (July 3rd) to see Skrillex at XS Nightclub in Las Vegas for some pre-independence day dancing. Dance into the night and create your own fireworks! Then, start your freedom day with a proper bang with Skrillex (again) at Encore Beach Club on Monday July 4th, 2016. This 21 + pool party is the perfect way to start your July 4th celebration in the sin city! If you're in Las Vegas check out these back-to-back Skrillex sets at the iconic XS Nightclub and then the Encore Beach Club for an all day pool party starting at noon. Who doesn't want a double dose of bass? If Skrillex isn't your thing make sure to catch Zedd and Alesso at the Encore Beach club pool parties on July 2nd and 3rd, respectively. Diplo is also set to play XS Nightclub for July 4th's Monday Night swim. If Las Vegas plays its cards right, we might have a surprise Jack Ü set on our hands! Both Venues will feature EDM's biggest DJs all weekend long. Check out the events and details below.
https://www.wantickets.com/Events/203702/Skrillex-...
https://www.wantickets.com/Events/203613/Skrillex-...

FRDM FEST
Celebrate true freedom with art, music, drinks, games and food at FRDM Fest! This festival is by the people for the people, in the truest form. This one day festival will feature performances by Lupe Fiasco, Bixel Boys, Le Youth, Coyote Kisses, T-Pain and many more! The best part about this festival is that 100% of ticket proceeds are donated to charity! All the proceeds from FRDM Fest will be donated to Teen Cancer America, a non-profit organization dedicated to improving the lives of teenagers and young adults with cancer. Celebrate independence day and help others at the same time, doesn't get any better than that. This 18+ festival takes place on Saturday July 2nd at Long Beach. Party with a purpose this year and check out all the event details below!
https://www.frdmfest.com/event/frdm-fest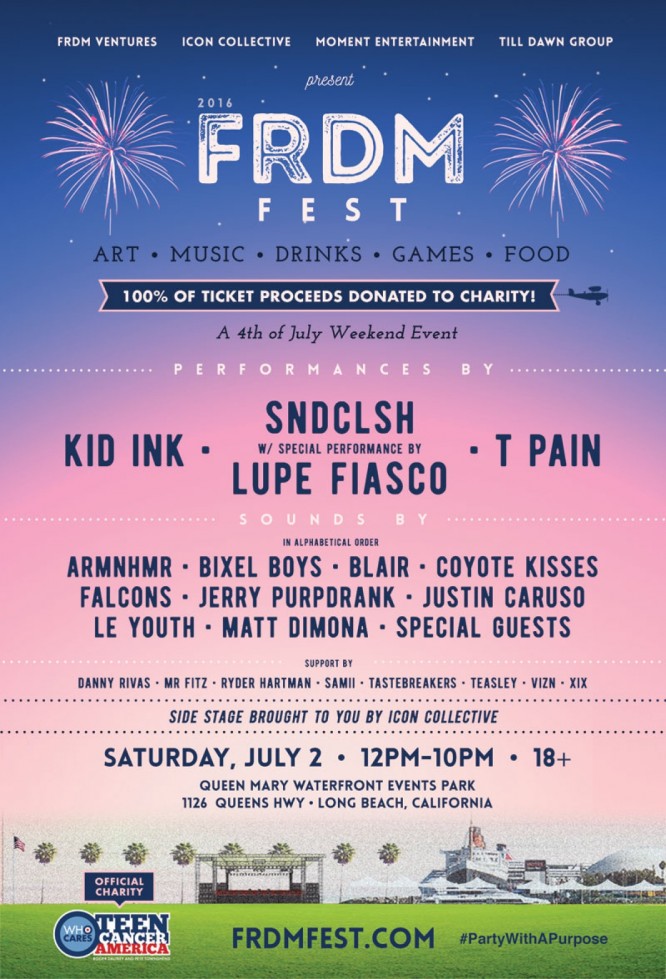 Life in Color: Kingdom
Life in Color is making a stop in Texas this independence day weekend for all you party animals! Everything's bigger in Texas, including their lineups. Join Dim Mak's leading man Steve Aoki, Yellow Claw, Solano and special guest Ghastly at the State Farm Arena in Hidalgo Texas. This all ages touring paint party is not to be missed, so check out the event details below for tickets!
https://www.facebook.com/events/1526955147609087/
http://lifeincolor.com/?post_type=events&p=97369
Digital Dreams Festival
Join our neighbours in the north as they Celebrate Canada day for Digital Dreams. Independence day shares the same weekends, so celebrate nationality in unity by heading right over the border to Toronto, Canada. Digital Dreams is Canada's biggest electronic festival with a lineup to match! Attendees will be treated to Above & Beyond, Armin van Buuren, Knife Party, Bassnectar and many more during this 2-day Canadian festival taking place July 2nd and 3rd. Full lineup and details below!
DEORRO at PARQ Restaurant & Nightclub
Catch Deorro in San Diego's PARQ Nightclub for a special Independence Day Weekend set. This is one of the classiest venues in California, so go down and enjoy the drinks, music and friends to end the weekend. The event takes place Sunday July 3rd and you can get tickets below!
http://www.wantickets.com/Events/209007/Deorro
FREEDOM FESTIVAL
This 3rd annual Freedom Festival was created to celebrate our freedom in America. This is not the same as FRDM Fest above and instead takes place on Sunday July 3rd, 2016 at Virginia Key Beach Miami. This festival also donates proceeds to charity, and this year the event is benefiting Wounded Warriors Project. There will be a variety of music across 4 stages including a main stage performance by Fame on Fire plus 50 headlining and supporting DJ acts. Check out the event page and full line up below.
https://www.eventbrite.com/e/freedom-festival-usa-...
https://www.facebook.com/FREEDOMFESTIVALUSA

July Weekend Edition of Evolution Sundays
Taking place this 4th of July is the weekend edition of Evolution Sundays at Florida's Shephard Beach Resort. The event will go all day and night! DJ sets start at 1pm on Sunday and go all night! Wolfgang Gartner is headlining along with some local talent. Check out the full lineup, set times and event details below.
https://www.eventbrite.com/e/wolfgang-gartner-w-ch...
LEVEL SATURDAY'S Presents: MIJA + TEAM EZY: Independence Party
OWSLA's Mija & Team EZY take over 3 rooms and over 2500 people makes this an event not to be missed during your weekend celebration of freedom! Get deep and dark with this underground party Saturday July 2nd in Miami. Full details below!
https://www.eventbrite.com/e/level-saturdays-prese...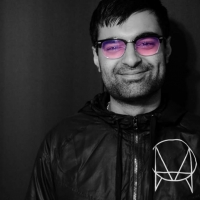 Harvit Gill
Toronto's very own, but my home is a festival near you. I'm a writer of all types and a man with too many hobbies. Creativity is life and I'm just a human. Being. Follow me on socials for new music or just to chat.