Five Things Every Music Festival Can Do to Keep People Safer
Music festivals have two histories. The first is characterized by a sense of community, of people coming together to celebrate music and the outdoors. This is a history in which festivals are a thoroughly positive force, often doubling as charity initiatives or as vehicles for social and artistic change.
The second history is much darker. Incidents of sexual assault and violence, such as those that occurred at the Bravalla Festival and Putte i Parken in Sweden last week, have exposed a side of festivals that's far less accommodating to women and minorities. An astonishing 40 cases of rape and groping were reported between the two events, and promoters quickly tried to push blame onto the potential migrant status of the offenders. Far from isolated incidents, such cases prove that safety and inclusiveness remain issues that too many festivals struggle to address.
Instead of dodging responsibility, major music festivals like those in Sweden need to address the systemic issues that make it difficult to keep fans safe. They can start with the simple step of booking more women to perform. Despite the fact that half of all festival attendees are women, music festivals often seem to go out of their way to tailor the experience to the tastes of the millennial male. Most lineups have a massive gender disparity (especially among the headliners), which inevitably sends a message about who belongs — and who doesn't. At Coachella 2016, for example, roughly a quarter of the billed artists were female (a fractional improvement over last year's 16%). All of the headliners were men. To illustrate this disparity, some journalists used Photoshop to remove male artists from some of the most popular festival lineup posters. Unsurprisingly, most of them ended up looking pretty bare.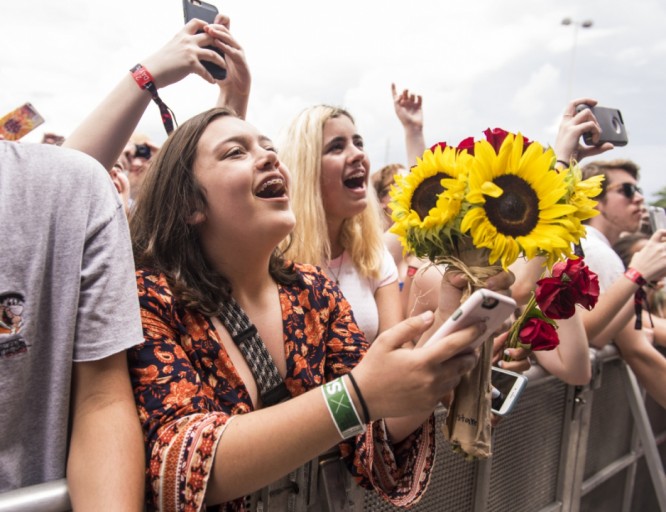 With lineups like these, modern music festivals have established themselves as male-dominated environments. It's no wonder, then, that so many men seem to think t-shirts promoting rape constitute acceptable festival attire. The effect on women and other minorities is that they rarely feel completely safe. In a Twitter poll conducted by Guardian journalist Alexandra Pollard, 127 of 149 women reported that they had felt unsafe at a music festival. This may be only a small sample, but each festival season churns out plenty of anecdotal proof to back it up.
In order to arrive at a future in which music festivals are a positive experience for everyone, organizers must acknowledge the problem and work toward creating a healthier culture. Here are five concrete steps they can — and should — take before next festival season rolls around.
Read the full story at Consequence of Sound to see the 5 things festivals should do to make people safer!