Decibel Festival is Canceled for 2016, Goes on Extended Hiatus
Seattle's Decibel Festival has canceled it's event for 2016 and perhaps indefinitely.
Sean Horton the founder and curator of the even penned a letter to fans discussing the reason for canceling the festival, largely due to his own relocation to Los Angeles.
Decibel Festival started in 2004 and married the mainstream with the underground featuring such acts as Richie Hawtin, deadmau5, Diplo, Justice, Robert Hood, and Boyz Noize, amongst 750 other artists in the festival's 12-year span.
Read the full statement below published on the official Decibel website
To all Decibel supporters,

I founded the Decibel Festival in 2003 with the hope of creating a unified experience celebrating electronic music performance, visual art, education and technology the that brings them all together. Looking back over the past 12 years, it is abundantly clear that Decibel surpassed any and all goals, while tapping into the zeitgeist of the Pacific Northwest. During that time the festival audience grew from 2,500 to over 25,000, while our one-off events schedule grew to over 50 events annually outside of the festival program. In addition, the festival hosted over 1,000 artists representing 40 countries, making it one of the most internationally focused and diverse festivals of its kind in North America. Last year's program was one of our most successful to date, which is a testament to this vision and the state of electronic music in North America.

At the heart of Decibel has always been the Seattle electronic music community, which to this day remains the most vibrant and resilient I've ever had the pleasure of being a part of. No place did this resiliency shine through more than with the Decibel Staff, who consistently met each challenge with poise and professionalism. To the dozens of staff members who have touched the festival over the years, I offer you my deepest gratitude and respect. Considering the grassroots nature of the festival and the fact everyone who touched it did so out of the belief in its vision gives me hope that both the spirit of Decibel and the future of that community are bright. You needn't look any further than the plethora of regional and local PNW crews, weeklies, festivals and organizations Decibel has collaborated with over the years to see just how strong that community is (e.g. Uniting Souls, TUF, Substrata, Studio 4/4, Starborne Shows, Starborne Sound, Action Potential, High & Tight, FWD, Flammable, Innerflight, secondnature, Cascadia Festival, CreativeLive, Bottom Forty, Believe You Me, Laptop Battle, Fourthcity, MOTOR, Capitol Hill Block Party, Bassdrop, Sub Pop, KEXP, EMP Museum, Bumbershoot, Seattle Theatre Group, Orac Records, Broken Disco, Bubbling', The Henry Art Gallery, The Stranger, Time-Based Art Festival, TRUST, Grounded, The Seattle Art Museum, Substantial, New Forms Festival, SunTzu Sound, Dropping Gems, The Vera Project, The PNW Chapter of the Recording Academy, Rane, Stimulant, The End, The Seattle International Film Festival, PlayNetwork, What The Festival, Paradise, KBCS, C89.5, USC, Abstract Earth Project and many others).

Some of you know, last fall I made the difficult decision to leave the Pacific Northwest after 20 years. Since my departure, I've found a welcoming home in Los Angeles and a career working for one of our oldest festival partners, Red Bull. Considering the new career path and distance from Seattle, it is with a heavy heart that I am announcing that after 11 straight annual editions, Decibel will be taking an extended break. Know that Decibel as an organization will continue and this is temporary and much needed break. We will be updating our online channels with news and recommendations, so please do continue to check back to our Facebook, Twitter and Instagram pages.

Considering the Decibel Festival will not be taking place this year, I would like to encourage anyone who has supported Decibel over the years to attend the inaugural Chance of Rain Festival (September 28th – October 2nd), which is dedicated to the further development of electronic music and will be produced by previous Decibel staff members.
Thank you once again for all of the support over the years. Change never comes easy, but know that Decibel as an organization will arise once again with new leadership to help guide it. For now I hope we can all reflect on how Decibel touched each of our lives and helped to provide a platform for the flourishing Pacific Northwest electronic music community.

Much love,
Sean Patrick Horton
Decibel Festival Founder, Curator and President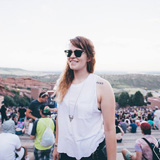 Devin Culham
Born and bred with the Detroit techno scene, I pledge my allegiance to the underground.