Zeds Dead Announces Debut LP with Diplo, Pusha T and More
One of EDM's favorite duos announced exciting news today. Zeds Dead is preparing to release their first LP. Titled Northern Lights, the duo's first full-length album will arrive in September 2016 via their recently launched label imprint imprint Deadbeats and features a hefty roster of collaborators.
Fans can look forward to featured artists Diplo, Pusha T, Elliphant, Twin Shadow, Rivers Cuomo, Jadakiss, Styles P and more on the album.
To support the big release, the duo is setting out on a worldwide tour with a whole new stage show! Find more info on the Northern Lights tour at zedsdead.net.
"There is something undeniably captivating about the night sky. It's almost like a direct projection of the unknown. The phenomenon of the Northern lights serves as a stark contrast to this --something vibrant and beautiful emerging from this darkness. It's a cross roads where we feel a lot of our music exists and its something that we really wanted to further explore with our debut album and live tour. We can't wait to bring you into this world over the next few months"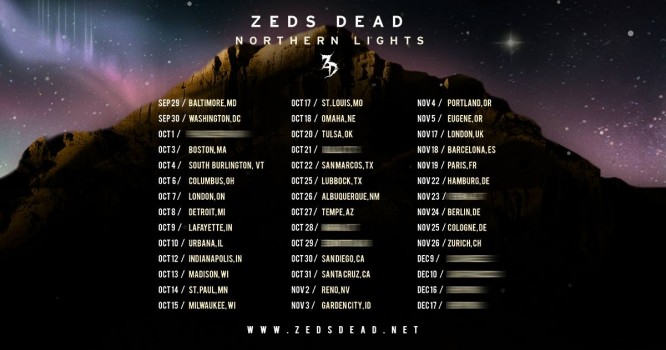 While we await more album details, enjoy this live footage captured by YourEDM of Zeds Dead dropping an unreleased collaboration with Diplo and Elliphant during their Spring Awakening festival performance...