Hope you're ready to feel some things.
English group Above and Beyond recently teased a live video on their Facebook featuring an upcoming remix of Moby's 1999 hit "Porcelain".
Without announcing a release date, the group gives a substantial teaser of the track, and it's all we can do to not stop and catch feels.

Enjoy the new remix below!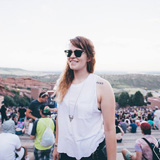 About the Author
Devin Culham
Staff Writer
Cut my teeth with the Detroit techno scene before moving to Denver to see what the mountains have to offer.