Big things have been coming from the Zeds Dead camp.

After recently announcing the release of their forthcoming full-length album Northern Lights to hit the airwaves this September, Zeds Dead released their first single from the album featuring none other than Diplo and dreamy vocalist Elliphant.
The track features Zed's Dead signature bass stylings with Diplo's penchant for catchy hooks and melodies and Ellipant's strong vocal support.
Check out the brand new track below and tell us your thoughts in the comments!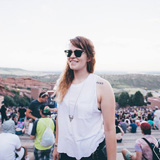 About the Author
Devin Culham
Staff Writer
I like electro. I like retro. I like ghetto. House and techno.