Zhu Debuts New Single "Palm of My Hand" from New Album
Zhu recently released a new track from his forthcoming album GenerationWhy.
The new track "Palm of My Hand" features soaring guitar solos with Zhu's signature brooding and deep electronic rhythms and soft hypnotizing vocals. "Palm of My Hand" also includes a sample of seductive female vocals in French giving the track an atmospheric and romantic tone.
The new album GenerationWhy is one of the most anticipated albums of the year and is slated for release on July 29th.
The new album features 14 new tracks including a collaboration with Skrillex and THEY on "Working on It".

Check out the tracklist below!
1) Intro (Neon City)
2) Cold Blooded
3) In the Morning
4) Secret Weapon
5) Electrify Me
6) Numb
7) Palm of My Hand
8) Money
9) One Minute to Midnight
10) Reaching
11) Hometown Girl
12) Good Life
13) Generationwhy
14) Working For It (ZHU x Skrillex x THEY.)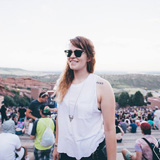 Devin Culham
Born and bred with the Detroit techno scene, I pledge my allegiance to the underground.