Hardwell trolled the audience at Ultra Europe.
The Dutch DJ asked the audience in Croatia whether they were ready for one more song. Instead of playing a soaring anthem or a dance floor banger, Hardwell played the Pokemon theme song.
The best part?

Hardwell sang along to the theme song and knew all the words.
We suspect that Hardwell was a very serious Pokemon fan at one time.

Check out the video below!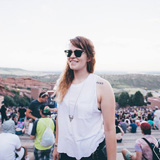 About the Author
Devin Culham
Staff Writer
Cut my teeth with the Detroit techno scene before moving to Denver to see what the mountains have to offer.