A Brief History of Aphex Twin Trolling His Fans
You know what you're going to get from the cover of an Aphex Twin release, right? It's either going to be his face or his logo. So one of the most immediately noticeable things about his Cheetah EP, issued two weeks ago, is that it featured neither. The other is that the design is more retro than Richard D. James has allowed himself since the cartoonish videogame character renderings on the cover of 1992's "Pac-Man," which he released under the name Power-Pill, and the classic board-game-style cover of 1995's Expert Knob Twiddlers, a collaboration with Mike Paradinas (µ-Ziq) credited to Mike & Rich, which Planet Mu just announced it's reissuing.
Cheetah features a clean blue design with a white border that resembles a Carpenters album, as well as a pair of ingeniously deployed vintage fonts: the title is written in Busorama URW Bold, the artist's name in Harlow Regular. The former has a 1920s Art Deco zip to its lines; the latter—along with a color palette of robin's-egg blue, white, and dull silver—feels decidedly 50s, with an echo of a Studio 54-era '70s aesthetic.
The throwback art helps fill in the music's backstory. Not only is the EP named after a piece of vintage gear, but much of it was made using that same box: the Cheetah MS800, a multitrack hardware sequencer unveiled in the early nineties. The Cheetah was an early utilizer of wave sequencing, a method of sound generation in which, as Aphex puts it in the press release, "Sounds [are] programmed to sequence through changing waveforms as the note plays, giving exceptional movement and character to the music."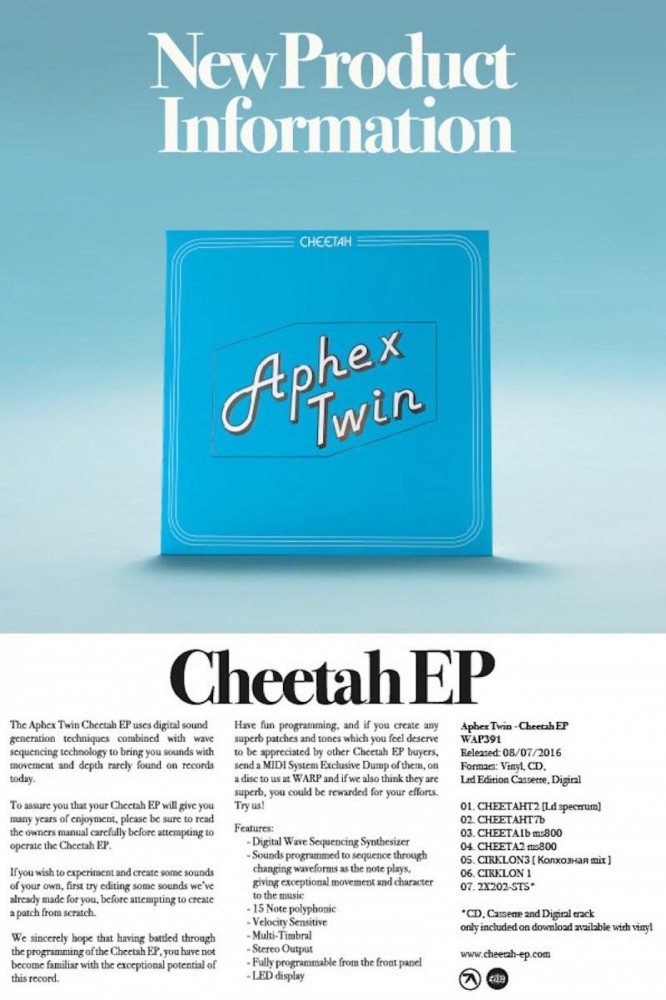 Read the full story by Michaelangelo Matos at THUMP