DJ Fresh Gets Honest About the Industry, To Quit Touring in 2017
DJ Fresh has publicly announced that he will stop touring in January 2017.
The British drum n bass producer, and one third of DNB group Bad Company took to his Facebook to share the news.

DJ Fresh has been suffering from health issues as of late, which has surely been a factor in his decision to take a break from the road. More-so than health concerns, its seems that in general DJ Fresh is just sick of the industry.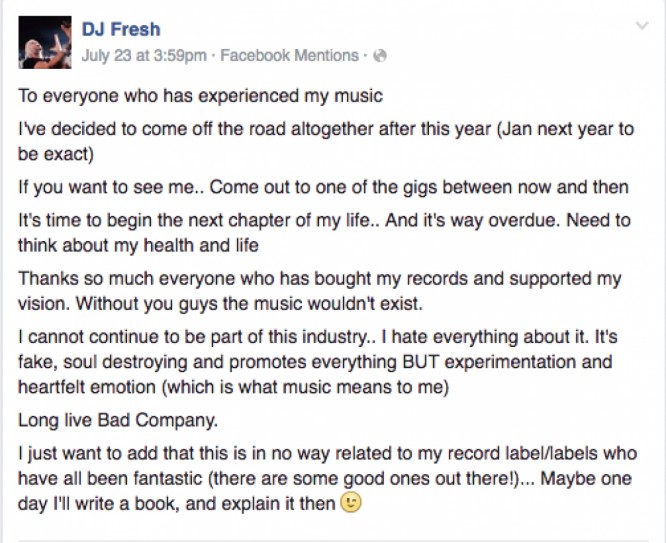 This was announcement was made just shortly after DJ Fresh announced that he was cancer free.
DJ Fresh has had a stellar career with Bad Company, often cited as having helped co-produced one of the best drum n bass tracks of all time with Bad Company's "The Nine".
Outside of Bad Company, DJ Fresh has had a very successful solo career including several hit singles. Perhaps most well known is "Gold Dust" which went top 40 in 18 countries and was the first drum and bass track to hit No. 1 on the UK chart.
Although we're certainly sad to see DJ Fresh walk away from the road, we understand and respect his decision and wish him health and happiness. We hope this will mean that DJ Fresh will head back to studio to keep creating and making experimental music!
H/T: MixMag