14 Most Powerful Artists in Dance Music
Summary/Commentary:

A look back at Billboard's list of the most powerful names in dance music, released last month. These are the artists that have the largest influence over dance music fans worldwide. If you could add an artist you love to the list, who would it be? Share in the comments.

This article originally appeared on Billboard
These are the artists that run the EDM world.

Eric Ryan Anderson
Diplo - Artist of the Year
In 2015, two of our Artist of the Year's songs dominated radio and streaming-service playlists. Jack U's "Where Are U Now," featuring Justin Bieber, helped Bieber shed his tween-idol baggage (It has been streamed more than 358 million times and has sold more than 1.7 million copies, according to Nielsen Music.) And his band Major Lazer and DJ Snake's "Lean On" (with vocals by MØ) was even more ­surprising -- an ­independent release that became an even bigger hit, ­racking up more than 400 ­million streams, with 1.7 ­million ­copies sold. Now Diplo is bringing Bieber and MØ together on "Cold Water," the lead single of the fourth LP by Major Lazer.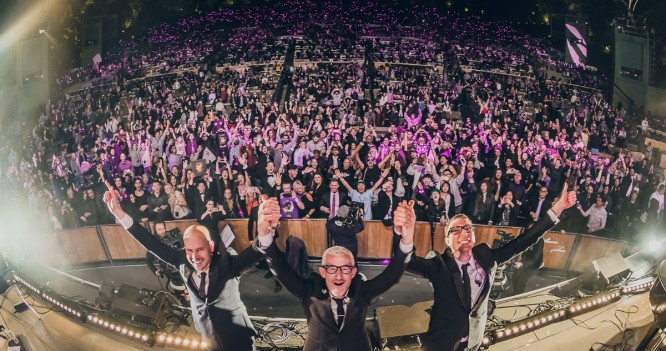 Rukes

Above & Beyond
After becoming the first British DJs to sell out New York's Madison Square Garden in October 2014, the London-based trance trio embarked on an ambitious world tour to support its new Acoustic II album, playing with an 18-piece band and featured vocalists at historic venues like the Sydney Opera House, Royal Albert Hall and Hollywood Bowl (another sellout). Their tastemaking podcast Group Therapy reaches 30 million each week. Lesson Learned: Siljamäki: "Bigger isn't always better; quieter is sometimes louder.
Larry Busacca/Getty Images for the 2016 Tribeca Film Festival
Steve Aoki
Aoki may be throwing cake at his audiences in limited portions these days, but the Los Angeles-based Dim Mak label head remains in constant motion: He launched an apparel line, dropped a single featuring Walk the Moon and is the subject of a surprisingly revealing documentary, I'll Sleep When I'm Dead, directed by Justin Krook, which made a splashy premiere at the Tribeca Film Festival in April.
Last Time I Danced My Butt Off: "At Harvard: I played the Yardfest. I applied there for grad school. I didn't think I was going to get in -- and I didn't. But I got into Harvard this way!"

Tim Mosenfelder/Getty Images
deadmau5
In terms of visibility and the ability to steer vital industry conversations, Deadmau5 (real name: Joel Zimmerman) is not only dance music's most opinionated and polarizing figure but also one of its most powerful. The Canadian producer and Mau5trap label head is impossible to ignore: He has publicly beefed with everyone from Kanye West to Disney during the past 12 months and, like it or not, has been one of the genre's loudest voices on issues like streaming, sampling and selling out. But this may be the year focus shifts back to his music. In March, he launched his own radio show on Apple Music's Beats 1, where he has been teasing a new album that's due later in 2016.
.... Read the full list from the Billboard Staff at billboard.com