Mat Zo & Matt Lange Talk Revolutionary Dolby Atmos Soundsystem in EDM.com Twitter Q&A
On July 1, Grammy-nominated British producer Matt Zo and American DJ and producer Matt Lange performed in Dolby Atmos at Ministry of Sound in London. Before they hit the stage at the legendary club with one of the most advanced soundsystems in the world, EDM.com had a chance to speak with both artists in a live Twitter Q&A about how the revolutionary Dolby Atmos audio technology has influenced the way they produce music and how it impacts their performance.
"We've worked with artists and filmmakers for 50 years to advance the art and science of sound. Our relationship with the creative community has always been important and their feedback on how technology can achieve their artistic vision is what drives innovation in our company."
The Dolby Atmos system features cutting-edge technology designed to free artists from channel-based audio. Distributing sound from every direction even overhead, Dolby Atmos allows sound to move all around you in multidimensional space. This means that artists can actually mix their music in the third dimension rather than mix and deliver in stereo or in other words, in two-channels.
For a music producer, this means individual elements of a track of vocals and various instruments are mixed together into only two discrete channels. This limits musicians' abilities to create a spatial and immersive experience. It also makes it difficult for music lovers to hear and feel every aspect of their favorite tracks.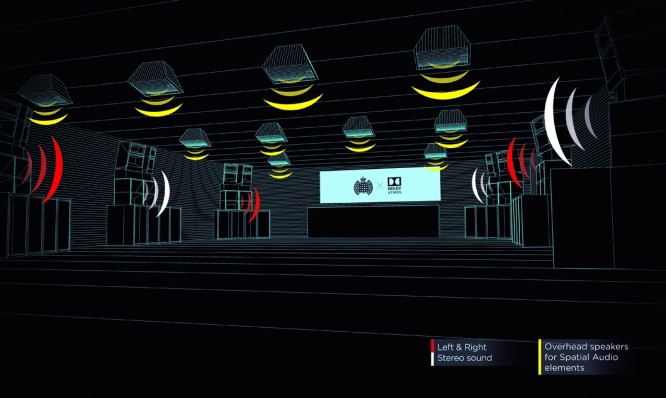 Photo courtesy of Dolby
Audiophiles can learn more about the Dolby Atmos residency at Ministry of Sound in London at ministryofsound.com.
Check out EDM.com's conversation with Mat Zo and Matt Lange about the Dolby Atmos system and preparations for their performance at Ministry of Sound below!
Fans can catch Mat Zo on tour now in support of his 2016 second studio album Self Assemble. Check out Matt Zo's remix of Matt Lange's "My Love Aside" in the latest edition of our weekly New Music Selections here.