Two of EDM's most beloved newcomers have just collaborated on a new single.
The first original collaboration by the duo certainly reflects production styles akin to both artists. The bubbly, upbeat melodies paired with heavier synth lines are the distinguishing elements on this track.
"Magic" is the first collab between Marshmello and Jauz following the duo's remix of Duke Dumont's "Need You (100%)"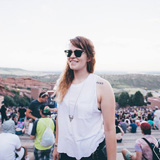 About the Author
Devin Culham
Staff Writer
Cut my teeth with the Detroit techno scene before moving to Denver to see what the mountains have to offer.