Firsthand Report: When Russia's Army Closed Outline Festival
We snuck onto the grounds of Moscow's Outline Festival to see what we were missing out on after the Russian military shut it down.
Several news crews had already arrived by the time our car arrived at the gate of the MoZAL auto body plant in Moscow before sunset on July 2, 2016. There stood a crowd of shell-shocked staffers who had been setting up what was supposed to be this year's Outline music and art festival when Russian authorities arrived on site and cancelled the party just hours before it was due to start. Police monitored the throng. Around the corner, more officers unloaded riot shields from jumbo-sized vans parked across from a platoon of military men in blue fatigues. An orange municipal garbage truck cruised down the road behind us with its street-cleaning hoses pointed outwards and upwards, heaving jets of water that drenched those gathered out front.
We parked our car in an inconspicuous spot and the three of us got out. We walked down a side street along the periphery of the plant and followed a route that would lead us to the locked festival grounds. We went through fences, traced railroad tracks and climbed a small bit of scalable wall that led into MoZAL. A few people waited on the other side to give us a tour of what should have been Outline Festival's biggest edition yet.
It took us at least 30 minutes to see it all: There were carousels; hollowed-out buses and cars; a skate park; a maze; intricate two-story wooden scaffolding constructed opposite the DJ booth Ricardo Villalobos was scheduled to play in; chill-out areas nestled into nooks and crannies inside the old building's drafty caverns; laborious hand-made art pieces like five meter-long wǔ lóng dragon costumes, a carefully-arranged stack of cereal boxes painted with the words "EAT YOUR LIES AWAY," colorful murals and rotating light installations. The MoZAL area is huge and stoic, and its corroding brick and metal industrial buildings seem emblematic of post-Soviet decay. Dejected staffers sat and smoked cigarettes on piles of tires with blank looks on their faces in the midst of their almost-finished—now never to be finished—sound systems and installations.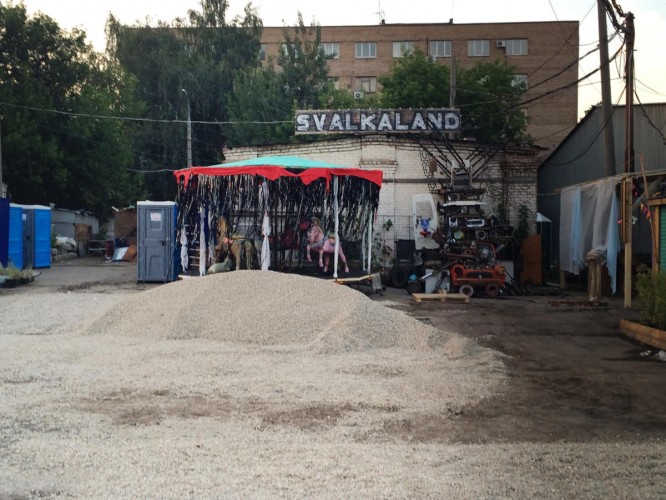 The past two editions of Outline have taken place in different disused industrial spaces, and its commitment to transforming unique locations around Moscow has contributed to its growing international cult following. DJs who've played the festival's previous events have sung its praises for the astounding artistic curation, trippy installations, respectful crowd and rock-solid musical bookings—this year's lineup featured representatives from minimal dance music (Rhadoo, Ricardo Villalobos), experimental and industrial (Mick Wills, Veronica Vasicka) and enigmatic bands (The Skatalites, The Residents). In 2016 attendance was estimated to more than double the 7,000 capacity it reached last year, with up to 20,000 projected visitors from throughout Russia and, now more than ever, around the world.
According to the festival, this success—especially among non-Russians—was its downfall, and the attention it received tipped the authorities to a movement the government simply wouldn't allow. Naturally the Russian authorities had another explanation as to why they shut Outline down. By the time we had arrived on the grounds, the police had already issued a statement accusing the festival of failing to sort out their licenses and fire safety permits by the deadline: 30 days before opening day.
Read the full story at Electronic Beats