Detroit Techno Artists That Changed the World
Before the days of blasting dubstep or hypnotizing trance, there was Detroit Techno.
In the past, Detroit has always been portrayed by its battered streets, its cold winters, and its checkered history of crime and racial segregation. What is rarely seen, however, is the Detroit that is a hotbed for artistic innovation.

A city built on industry, Detroit helped to introduce the world to technological advancements in machinery. With its heavy importance on automobile manufacturing, the Motor City became the backdrop that would influence the creation of an entirely new sound.
That sound was Detroit Techno.
First Wave - The Belleville Three
In the mid-80s while Chicago was bubbling with the sound of soulful disco records and manufactured beats, Detroit was developing its own unique sound. Just four hours east, a group of teenagers (who would later be christened the Belleville Three) began experimenting with beats and sound.

There names would later be associated with the origin of techno: Juan Atkins, Derrick May, and Kevin Saunderson.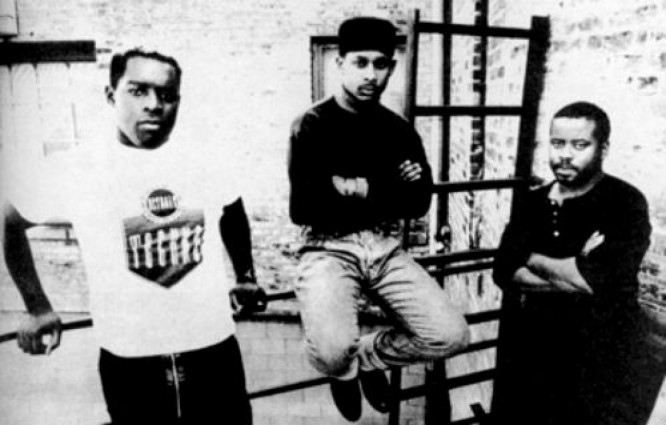 (L to R: Kevin Saunderson, Derrick May, Juan Atkins)
Founded in the spirit of experimentation – with little hope for commercial success – the Belleville Three were able to create a genre that reflected futuristic urbanism; mimicking the sounds of industry that reverberated throughout the city.
Cybotron - Cosmic Cars (1982)
Cybotron was an early techno group formed by Juan Atkins and Richard Davis.
Kreem - Triangle of Love (1986)
One of the first tracks produced by Kevin Saunderson for Juan Atkin's Metroplex label.
Rhythim is Rhythim - Strings of Life (1987)
The synthetic string arrangement from Derrick May's Rhythim is Rhythim moniker took over British dance floors during the first UK house explosion.
Second Wave: Underground Resistance, +8, and Carl Craig
In the late 80's Detroit began to undergo a recession that would later cripple the auto industry leaving thousands without jobs. Building on the groundwork laid by The Belleville Three, Underground Resistance went a decidedly more political direction with their sound.

Originally made up of some of the greatest purveyors of second generation Detroit Techno, Mike Banks, Jeff Mills, and Robert Hood came together to form Underground Resistance. Although techno was never a commercial success in the United States, its sound and influence began to spread from England to Berlin. Underground Resistance, however, heavily focused on creative independence, eschewing record labels for self-releases. In their sound, UR sought to lift up the impoverished black communities of Detroit and to inspire individuals to break the cycle of poverty from which they were entrenched.

From across the river in Windsor, Canada, Richie Hawtin and John Acquaviva branded their own form of Detroit Techno with the label Plus 8. As +8, Hawtin and Acquaviva experimented with a sound that was characteristically more minimal, with heavy drug-fueled industrial influences.

Throughout this period, Detroit native Carl Craig was also experimenting with hardware. Having performed under several different aliases, Carl Craig's first professional recording "Neurotic Behavior" was released by Derrick May's label Transmat in 1990 under the name Psyche. Carl Craig has since become one of those most popularly recognized figures of Detroit techno both because of his jazz-influenced recordings and as label boss of Planet E.

Underground Resistance - Your Time is Up ft Yolanda (1990)
An early Underground Resistance track featuring the talents of Banks, Mills, and Hood.
Final Exposure - Vortex (1991)
An early release from Joey Beltram and Richie Hawtin referencing much a much faster tempo than first wave Detroit Techno.
Innerzone Orchestra - Bug in the Bass Bin (1996)
One of Carl Craig's many monikers, "Bug in the Bass Bin" is one of Craig's most successful tracks and is considered to have been a vital influence in the drum n bass movement that would follow.
Then and Now
Consider this a basic primer for the vast history and widespread influence of Detroit techno.
While these were some of the major players that helped to develop and shape the sound of electronic music, they certainly were not the only ones. Other artists like Octave One, Eddie Fowles, Kenny Larkin, Stacey Pullen, Moodymann, and many others have also played a pivotal role in the genre's creative evolution.
While Detroit Techno may not have ever reached commercial success, its influence can be cited in nearly every form of electronic music. So when you plug in your headphones to hear the next big track from Skrillex or Diplo, remember those who laid the foundation which helped to popularize electronic music for the world to enjoy.