Fighting Homogenisation: Dekmantel Reviewed
Summary/Commentary:

Christian Eede reviews Amsterdam's popular 'underground' Dekmantel Festival, giving us a good looking into the festival's strengths, as well as the changing state of the undergound.
As the annual Amsterdam-based festival faces increasing popularity year on year, Christian Eede considers how Dekmantel is pushing against becoming just another dance music festival, and fits in a trip to new club De School along the way. Photos courtesy of Bart Heemskerk and Desiré van den Berg
I'm not talking about what we have collectively come to term as 'EDM' when I say that club music is particularly having its time in the sun right now. Sure, we can suggest that it has always been ripe for widespread success and popularity, and three decades of history, through the emergence of various sounds under the collective house and techno umbrella, attest to that, but this seems to be a different kind of expression of the sound being in vogue, one where Facebook groups are rife with thousands of members eagerly discussing the latest Hinge Finger release, club closures or festival line-up.
People discovering new sounds and communities, ways to belong, is a beautiful thing, but the fear arises too that ever-increasing popularity has its downsides - they largely come down to one concept, homogenisation. There's no denying that audience shifts in some aspects of the electronic music scene have seen changing atmospheres, of people feeling unwelcome at certain club nights or even clubs in themselves and of an ever-increasing online visualisation of the worst aspects of people getting involved in scenes with no care for their foundations. It stands to reason then that a number of people fear co-option by those people as well as events that were once deemed special changing as a result of differing, growing audiences.
One of those festivals often under the microscope of the online discussion mentioned above is Dekmantel, an annual electronic music festival located in the woods of the Amsterdamse Bos, around 20 minutes from the centre of Amsterdam. Having kicked off in 2013 where a few thousand people flocked to the site for the weekend, glowing reviews have followed in abundance each year since from those in attendance on and off the festival stages. With that, there is of course the risk that Dekmantel could lose what had made it special to those very first attendees involved in its inaugural years as a festival, particularly with the festival having grown in some way each year since 2013 to make way for its insuppressibly ascending popularity, and of course the danger permeates that you are then never far from Dekmantel becoming 'just another festival'.
What is important though is how you grow, and Dekmantel has undeniably grown - just buying tickets for the festival now sees those who want to assure their attendance recommended to register for the sale in advance. You have two decisions - increase the capacity markedly in order to make way for more and more, particularly in the face of earlier sellout dates each year, or you take steps to develop the festival in more thoughtful ways, raising the capacity ever so slightly where you can. Fortunately, Dekmantel have opted for the latter over the last few years, and it's noticeable - certainly the fear that the festival could lose what has made it special thus far was unfounded in 2016. The team behind Dekmantel have made it clear just how much they love their location over the years, and there's reason to see why. The surroundings of the Amsterdamse Bos give it a simultaneous feeling of spaciousness and intimacy with short walks from each stage to the other - importantly avoiding soundbleed across the five on-site stages and long bar queues throughout the weekend as well as providing some of the best quality sound systems you can find at a festival - and its roomy, yet vibrant dance floors, all of them unique in one way or another.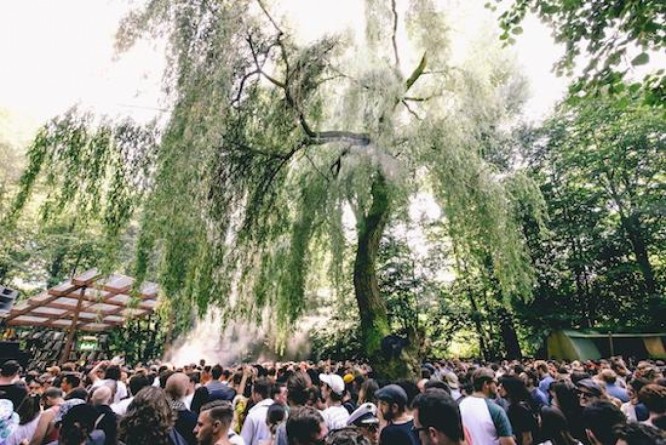 ...
Read the full review by Christian Eede at The Quietus