First Burning Man Sets Announced, Including Skrillex, Diplo, and Rusko
Each summer, tens of thousands of people descend onto Black Rock City, Nevada to build an egalitarian society from the dust of the playa.
Everyone from Silicon Valley tech-millionaires, to intensely spiritual transcendentalists (and even P.Diddy!) head to the desert for one week each summer to exist in a society where free expression is the law of the land.
Apart from the massive art sculptures, the roving art cars, and the thousands of people on bikes, there are usually unannounced musical performances.
This year, Camp Questionmark unveiled its line-up prior to the week long experience featuring artists like Skrillex, Diplo, Griz, and Rusko, among many others.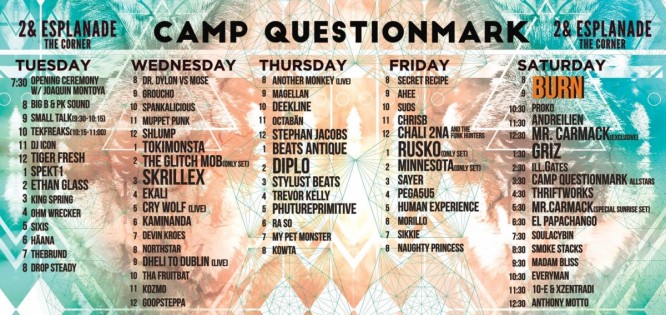 (Photo Courtesy of Sarah Duff)
Camp Questionmark shared a statement regarding the announcement.
"After 14 years on the playa, everything we have worked so hard at, as a Camp, has led us to this point. This is the culmination of creators & artists coming together to do something completely for the love of it, rather than monetary gain. We are overwhelmingly humbled and grateful to be giving you this gift to the playa. For what is undoubtedly our biggest year at Burning Man yet! Thank you to everyone that's been down for the camp in any way up to now."

Burning Man will take place August 28 - September 5 in Black Rock City, Nevada
H/T: Dancing Astronaut