Inside the Safest Festival in Electronic Dance Music: Shambhala 2016
"Are you guys doing okay tonight? Just sign in here for a bed if you need to relax," said the bandana donning woman working the front desk at The Sanctuary on Saturday night.
"The Sanctuary" is a place for attendees of the Shambhala Music and Arts Festival in Salmo River Ranch, British Columbia to go when they're overwhelmed, scared, sick or just need a place to chill out.
This cool, enclosed space is brimming with air mattresses, counselors and medical staff, all on hand to offer comfort to those who have checked in for some much needed R&R. The Sanctuary also happens to be one of the many harm reduction services that Shambhala offers to its more than 11,000 annual attendees.
"Feel free to take a look around, and come back for some hot tea if you'd like," she adds.
If this sounds out of the ordinary for a music festival, it's because there's really nothing ordinary about Shambhala. In a lot of ways, it's the anti-festival. Sure the lineup offers huge names like Excision, Getter, Boys Noize and Gorgon City and the seven distinct stage designs are unmatched in production, but there is a noticeable absence of corporate sponsorship, a lack of lengthy security lines to enter the festival grounds and if you're craving a beer, you're not going to find it.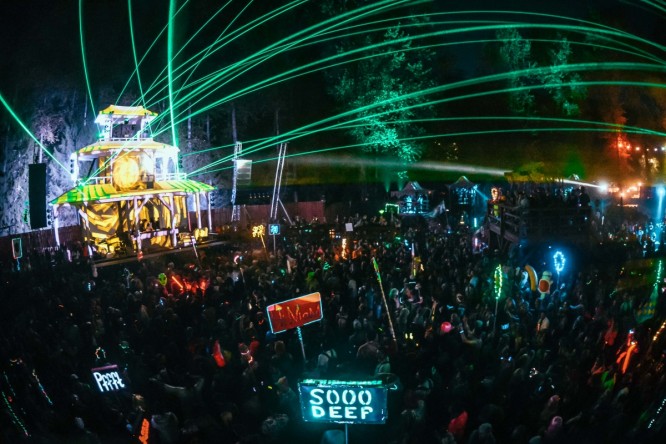 Photo Credit: Will Selviz
Having just wrapped up its 19th year, organizers are happy to say that it remains one of the safest festivals around for a myriad of reasons, and topping the list is its "alcohol-free status." You can't bring it. You can't buy it. Period.
(Well, there was that one dealer who came through camp on Sunday. He was slinging beers for $5 a can. I ultimately passed on his offer.)
As an avid festival goer who appreciates a stiff drink in the summer heat, I was a little skeptical about how the lack of booze would affect my good time. After all, what's a party without a few cocktails? The answer: it's everything.
As it turns out, a party without alcohol is a cleaner, friendlier, safer party, with a douche factor that clocks in at an all time low. And it allows for completely immersive stage set-ups that almost miraculously avoid getting destroyed by the otherwise entitled crowds you often find at more mainstream events.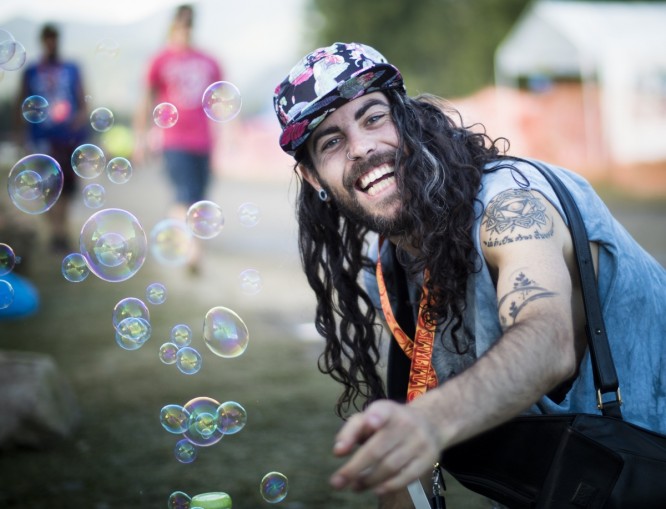 Photo Credit: Louis Bockner Photography
Shambhala is proof that there is a direct correlation between alcohol intake and crowd pushing, piss-covered toilet seats and trash-filled venues. Not only was Shambhala pristine and polite in all of the aforementioned categories, it also attracted the most pleasant crowd with whom I've ever had the joy of getting down. And really, who needs beer when there is a seemingly endless supply of fresh coconuts? That shit was super lit.
Artists agree that access to the sauce isn't what dictates a great festival. Vancouver-based DJ duo The Funk Hunters have been collectively involved with Shambhala for more than a decade. From attending the festival as ticketholders to working odd jobs on the farm to eventually becoming some of the most veteran performers on the lineup, The Funk Hunters have watched Shambhala grow, without losing sight of their ability to take exceptional care of their guests and maintain excellent control of their annual event.
The Funk Hunters member, Duncan Smith, believes that by limiting access to alcohol, Shambhala has managed to cultivate a loyal following composed of passionate music lovers, and consistently attract a more respectful and aware crowd.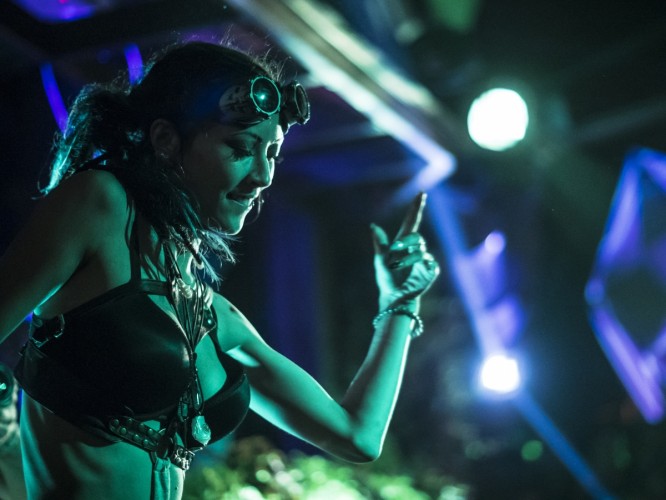 Photo Credit: Louis Bockner Photography
"I've heard people say, 'I don't want to go to Shambhala because I prefer to drink,'" Smith says. "Obviously, if that is someone's main reason for attending a festival, then restricting alcohol is a great way to eliminate those kinds of people."
But organizers aren't ignorant to the other kinds of activities that happen on the farm. This is an electronic music festival after all, and when people come from around the world to rage, they likely aren't coming empty-handed.
"If anyone gives you Tylenol, make sure you get it tested to ensure it's not Aspirin," the Shambhala security guard told us with a smile.
While it is prohibited to bring substances like marijuana and other illegal drugs and narcotics through the initial security screening (not to mention an extremely thorough car check at the Canadian border if you're driving from the states - take heed), there is no shortage of items to be found around campsites, as independent vendors hock everything from homemade mushroom chocolates to LSD, MDMA and other popular party drugs.
While this kind of dealing is not unusual for camping festivals, Shambhala takes full responsibility for the inevitable by offering on-site drug testing through a partner known at Ankors Services. Attendees and artists alike lined up at the "Harm Reduction" tent during all hours of the day. They are encouraged to bring their party supplies to this location to be tested on the spot, no questions asked.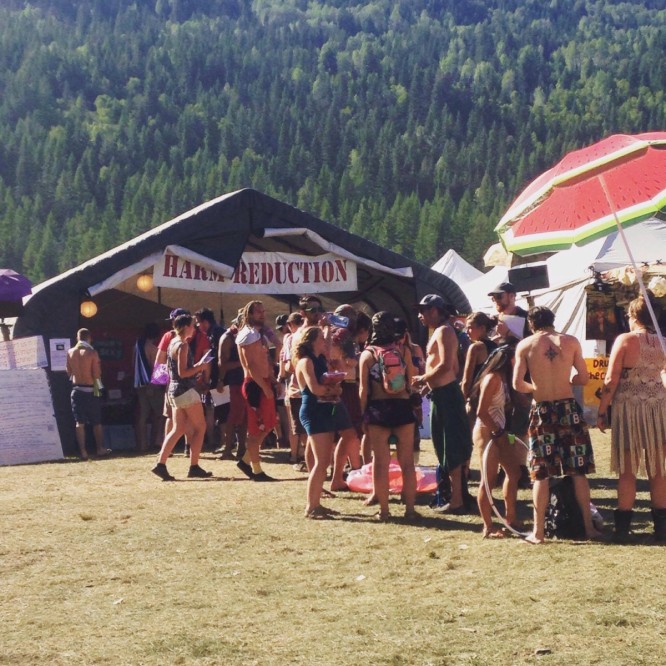 They can also come here to learn more about high risk substances and bunks that have been making their way around the farm. Informative dry erase boards offer insight about what attendees might be holding, as well as potential harmful side effects. Ephedrine and caffeine were sold as cocaine while even more dangerous substances like the deadly PMMA tested positive in bags of ketamine purchased on-site by numerous campers.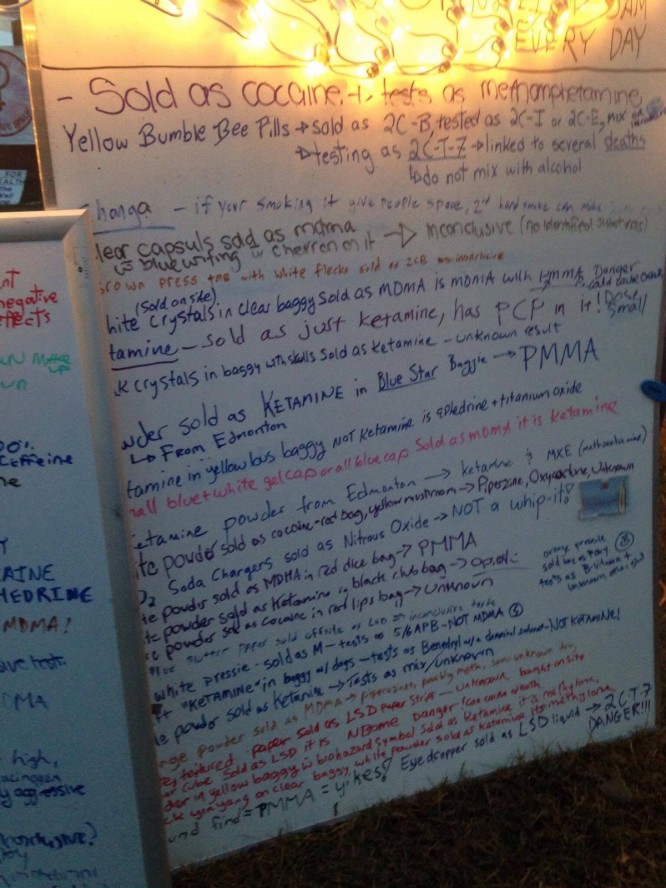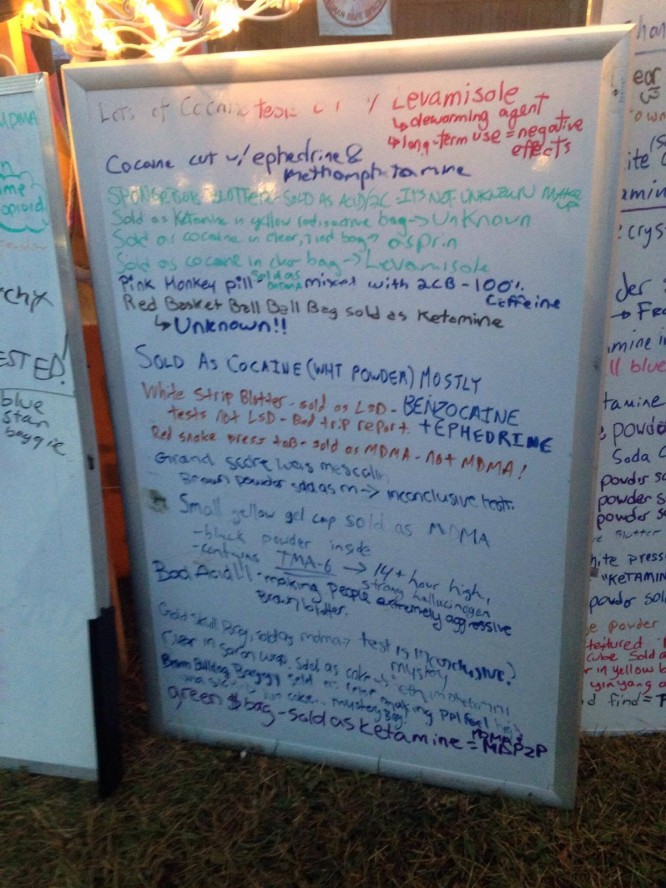 "We need to be real. Drug use is happening at these kinds of events regardless, and only now with the rise of electronic music and festival culture are people really starting to talk about harm reduction," says Smith. "Shambhala has been dealing with these issues since day one, and that's why they have such a great track record. I've never seen more effective support staff, first-aid and security teams. And in general I feel that Shambhala attendees take better care of themselves and each other."

(To reinforce Smith's observation: I never once saw a person being taken out of a crowd in a stretcher. I did however, see several full-grown men in studio-quality "Teletubby" costumes dancing like they were under contract.)
Smith isn't the only one raving about Shambhala's safety team. Speak with any of the smiling, happy Shambhala fam, and they'll likely share the same sentiments.
"They really know how to take care of people here," a veteran festival-goer told me while we waited in line for the shower. "Have you checked out the 'Women's Safe Space' yet? Now that is a really special place."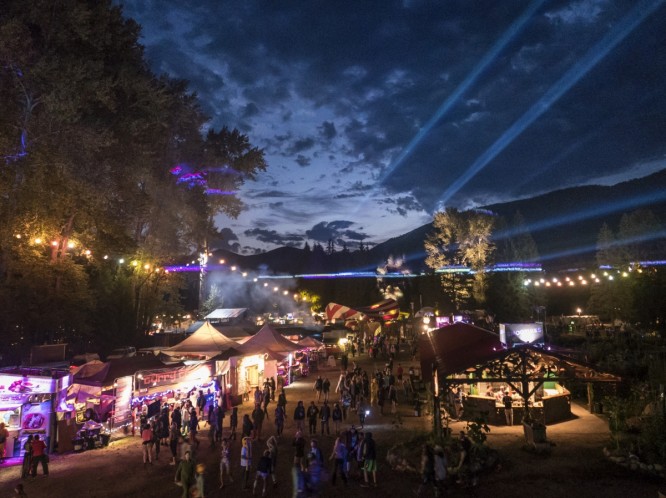 Photo Credit: Louis Bockner Photography
I wasn't surprised to learn that there was an additional hideout specifically for female attendees, especially after noticing all of the anti-rape literature boasting the tagline "Consent is Sexy" plastered on every port-a-potty, pole and community board on the grounds. Women can come to this spot located back behind the harm reduction tent to report any dangerous behaviors and talk with trained counselors if they are feeling at all uneasy about their surroundings.
These services are just added comforts on top of an already breathtaking and comfortable environment. Set in scenic British Columbia, the mountainous evergreen backdrop cultivates the serene and welcoming feel of the intimate festival.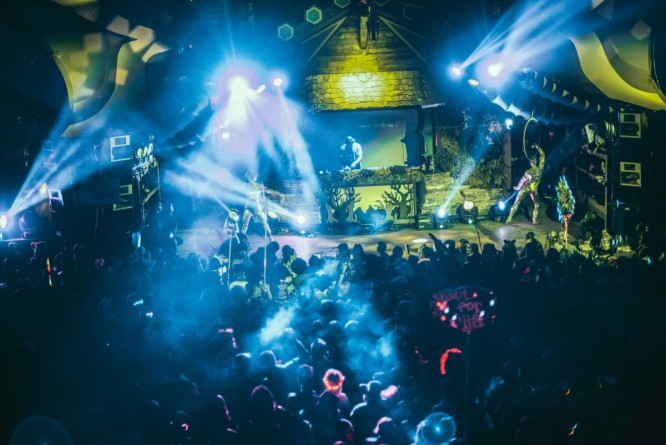 Photo Credit: Will Selviz
The food, all produced daily by local vendors, is delicious and easily accessible. Plentiful water stations pour ice cold water from the nearby streams directly into the bottles of thirsty partiers, and there's always shade in the Fractal Forest, a stage so meticulously decorated with abstract structures and lights that photos and video are strictly prohibited (not that they would do it much justice anyway).
You can take a dip in the river that runs alongside the sandy Living Room stage where house DJs play into the early morning hours, or enjoy a session of morning or afternoon yoga in a quiet alcove. Or if you choose to hang out in the campgrounds all day, you'll find plenty of renegade parties and themed camp activities there too. Just ask the cuddly organizers of "Camp Hugz," a group located near Starlight Camping that held daily "Hug Instructionals" for those seeking new methods for snuggling up to loved ones and new friends.
Shambhala embodies support, and as a result, breeds respect for the environment, attendees, artists, staff and yourself. It's not hard at all to see why people lovingly refer to the farm as "home."
On night two, as we watched lasers pour from the facade of the bass-blasting Pagoda stage, my boyfriend asked, "Can Shambhala be a forever thing?" My response: "1,000x YES!" I haven't been so moved by the attitude, organization and quality of a festival in my life. Shambhala is more than just a music festival, it's a real community - one that will continue to live on in anonymity because of the loyal fans who love it so much and the organizers who refuse to sell it short by outsourcing it to a major production company.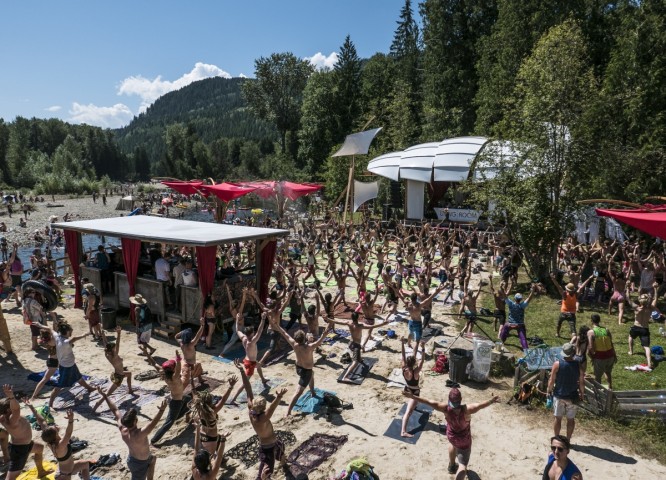 Photo Credit: Louis Bockner Photography
So when the farm calls your name, show up with an open mind. And do yourself a favor - actually ditch the drinks for a few days. Not only will you leave a festival feeling better than you ever have before, you'll realize you never needed those overpriced, shit beers in the first place.
Pre-sale tickets for Shambhala 2017 (taking place August 11-14) go on sale Thursday Sept. 1 at noon PDT via their website.
Be sure to check out The Funk Hunters new collaborative 5-track EP, with Chali 2na, dropping this October. The first single from this upcoming release, "Word to Spread (feat. Tom Thum)," is now available on their official SoundCloud page.