Recently Billboard sat down with several songwriters and music executives to discuss the changing state of songwriting.
One of the major topics of discussion was collaborations between artists and how to choose which artists should work together. Republic Records Executive Vice President let a major cat out of the bag by announcing that Daft Punk and the Weeknd were scheduled to hit the studio together: (2:40)
"Well actually, we have a session coming up in two days with The Weeknd and Daft Punk, and I've always been a massive Daft Punk fan...This is the first time I've been involved with an artist who's going to go and work with them."
Last Wednesday, the Weeknd added fuel to the fire by posting an image with two Daft Punk figurines.
Daft Punk known for their secrecy, have not released any new music since 2013's Random Access Memories. There has been no word yet whether this release will be featured on a new Daft Punk record or whether it will be released as a single.
H/T: Billboard
Cover photo: Pitchfork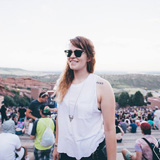 About the Author
Devin Culham
Staff Writer
Cut my teeth with the Detroit techno scene before moving to Denver to see what the mountains have to offer.