Electric Daisy Carnival Announces New Location in India
Insomniac recently announced that they will be taking the Electric Daisy Carnival event brand to India.
India has been quietly creeping into the peripheral vision of event promoters and artists by building an organic EDM scene.
Starting in nightclubs and branching out into festivals, India held two popular EDM events last year: Sunburn and Supersonic.
This year, Electric Daisy Carnival will make its Indian debut in Delhi this November 12th-13th and is sure to bring one of the biggest lineups the country has ever seen.
Insomniac CEO Pasquale Rotella said in a recent press release that he was very excited about the new event:
"Ever since I was a kid, I've been fascinated by the country's colorful and exotic culture...I know it's a place where the magic of EDC can come alive in a truly unique way."
Update 8.29.16: Rotella's quote was taken from a press release regarding the event, not from an interview with Huffington Post India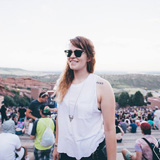 Devin Culham
Born and bred with the Detroit techno scene, I pledge my allegiance to the underground.