This weekend marks Avicii's final live performance.
Last March, Avicii announced to fans that after his 2016 run he would retire from the road.
And so that time has come.

Avicii is set to play his final set this Sunday in Ibiza at USHUAÏA, where he has had a residency for the past five years.

In anticipation for his final performance, Avicii took to Facebook to prep fans for his farewell.
While it's too early to say whether or not this will be Avicii's final performance of his career, it certainly expected to be the last performance before an extended hiatus.
One part of me can never say never, I could be back ...but I won't be right back.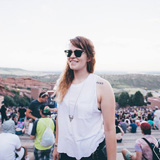 About the Author
Devin Culham
Staff Writer
I like electro. I like retro. I like ghetto. House and techno.