From Hong Kong to Burning Man: Lee Burridge's Adventures in Music
Summary/Commentary:

All Day I Dream label boss and global nomad Lee Burridge talks with Huffington Post's Morena Duwe about what inspires him. Lee Burridge discusses how his career got started before he heads to the playa for this year's Burning Man.
For decades, sunrise-set-specialist Lee Burridge has emblazoned the underground music world with melodious house beats that sing the songs of a generation. All Day I Dream has been a place where, for over five years, Burridge has orchestrated a deep and emotive house music experience.
The newest addition to the All Day I Dream family is Lost Desert who Burridge discovered by chance in the bowels of an Antwerp nightclub. The two instantly connected finding that they shared a musical chemistry which eventually effervesced into their debut EP, Get Weird. Their newest creation is Lingala, a two-track collaboration due for release on September 9th, 2016.
The title track, "Lingala," is a delicately composed, ten-minute odyssey featuring ethereal vocals sung by Junior, undulating basslines and Burridge's signature melodic grooves. Spacey and rhythmic, the ears of Burridge's fans will happily slurp up these new sounds at the upcoming All Day I Dream of Summer's Fade on Governors Island in New York on September 18th. In this incredibly comprehensive interview, house-master Lee Burridge shares his epic life story, challenges, failures, and much more.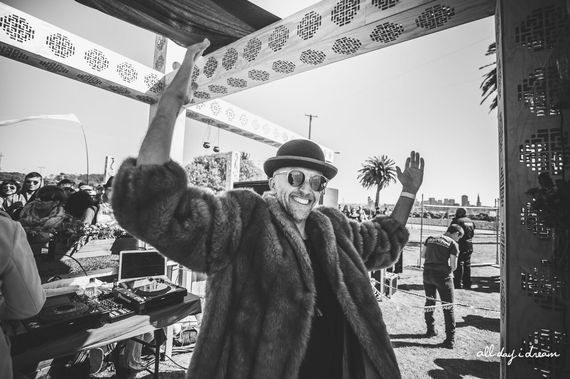 Who are some artists outside of the electronic music scene that inspire you?
Lee: It all started with Pink Floyd for me when I was a kid and I still go back and forth for inspiration — although let's face it, they are in a different universe to most of us who 'attempt' to make electronic music. The last few years I think Nils Frahm is doing some really interesting work.
Tell me about the Genesis of All Day I Dream.
Lee: There were quite a few factors that lead to me creating it. Firstly, I'd started collecting and looking for some more musical music around 2007. Tracks or artists that didn't really adhere to the more popular sound of that time. Minimal music was extremely popular everywhere. Melodic music was not. I was super into Kollektiv Turmstrasse's productions and had been scouring the digital and vinyl sites for any and all music that had emotive elements to it.
Around this time period I'd also started to notice a disproportionate amount of men attending events. I'd always preferred a more balanced mix of males and females as a crowd but had seen a few photos of events in New York. Actually there wasn't a girl to be seen and it was a big crowd shot. I found that kind of sad as girls love music as much as men. I wanted to change that.
Next, I found myself playing an after-hours event in a villa in Playa Del Carmen in 2010 during BPM festival and a lot of my friends were there hanging out. I decided to play only the melodic music I had with me. The response was amazing. A lot of people got up and started dancing and didn't stop for hours. Most, were girls. That really stuck with me.
...