Bass Center 2016 Raises The Bar For Artist's Special Events
Summary/Commentary:

Contributor for Huffington Post
A little over seven months ago I journeyed to Hampton, Virginia to experience a two night event called BassLights. Not only did it provide me with the material for my first published article, but it opened me up to a whole new world of music. This past weekend I was able to build upon that first article, and that first event, by flying out to Denver, Colorado for the rebranded Bass Center hosted by electronic music mastermind Lorin Ashton, aka Bassnectar.
The event took place at Dick's Sporting Goods Park just outside of Denver in Commerce City, Colorado. Soccer fields outside the stadium were converted to campgrounds, the roads and walkways leading to the venue taken over by hand-picked vendors and numerous activities in which attendees could partake. From the moment you turned down E. 56th Ave to get to the stadium, you could see the tents and Bass Center flags, as well as the towering stage peeking up from inside the field.
The lineup itself was worth the adventure, but the experience as a whole will last with me for a lifetime. Featured on the diverse list of acts were Minnesota, Lupe Fiasco, Flying Lotus, and Flux Pavilion on Friday July 29th, and Thriftworks, G. Jones, AlunaGeorge, Porter Robinson, and Wu Tang Clan on Saturday July 30th. Each night would conclude with an unbelievable extended set from Bassnectar, totaling close to 5 hours of music. The months leading up to the festival were filled with buzz, anticipation, and speculation about what might be in store for us when we arrived; but nothing could have prepared us for what we experienced.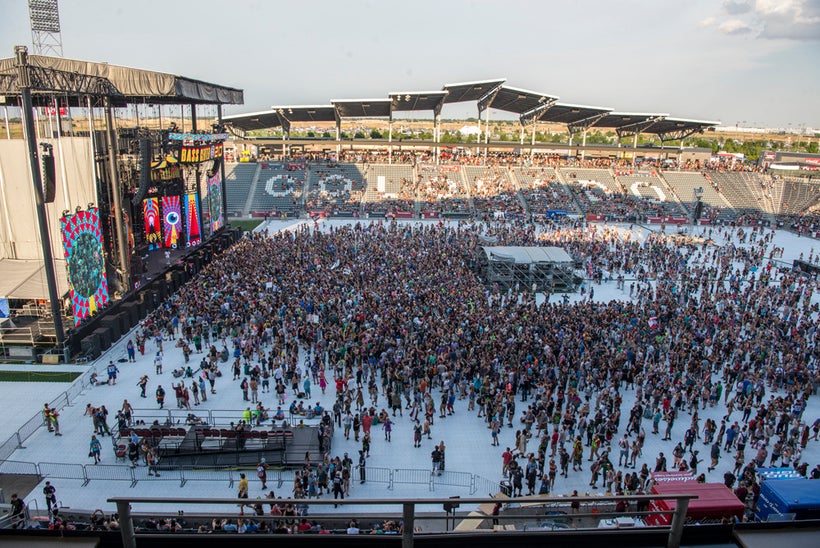 A multitude of tents packed to the brim with beautifully crafted wares awaited campers as they left the campsites to make their way to the event. There were slip-'n-slides set up by the ambassadors, and even a color war where "crews" who had all come together for the event could take part in fun games like a water balloon toss, a three-legged-race, limbo, and more. Buses were converted to photo booths, and there were even separate fan parades themed after popular tracks "Pink Elephants" (Daladubz) and "Zodgilla." Both parades encouraged attendees to dress up and participate and make their own parade routes.
Of course, no Bassnectar event would be complete without charitable contributions and community-driven projects. There were multiple donation drives scheduled for the weekend: on Friday and Saturday, attendees could make donations of school supplies to help support Denver Public Schools Foundation. On Sunday, anyone could drop off new, or lightly used camping equipment to support Groundwork Denver, an awesome charitable organization that provides a number of services to the greater Denver area. Both drives were a great success. Throughout the weekend, and inside the venue, the Conscious Alliance held a canned food drive that gave limited edition posters to anyone who brought twenty non-perishable food items, or a suggested monetary donation.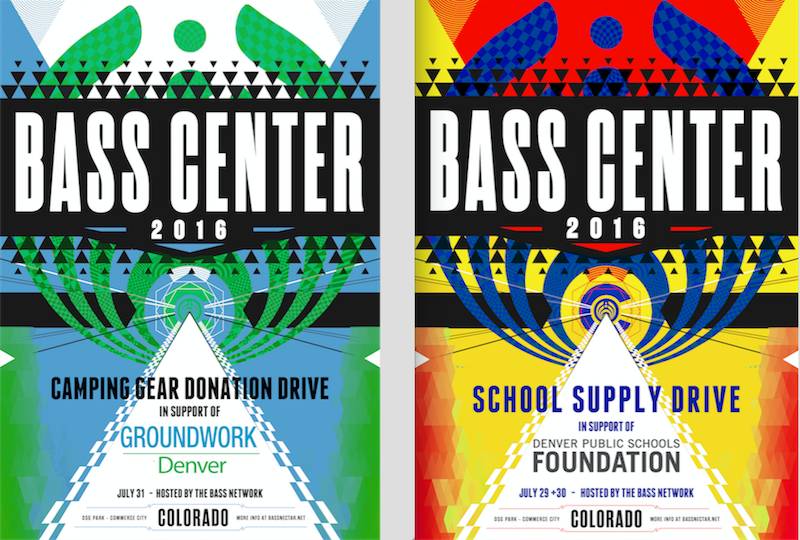 There's also a new initiative that's been taking place this year called the "Basshead Cleanups." Since Bassnectar is usually a headliner, bassheads have been bringing garbage bags to events and cleaning up the venue after the smoke has cleared, and the lights have turned back on; maintaining a leave-no-trace mentality at every show they attend.
After spending most of the first two days writing about my experience, I was honored with the privilege of interviewing Lorin Ashton himself about how he pulled together such an amazing event. I will admit, walking into the backstage area and being shown the tiny room in which I would hold the interview was nerve wracking ― not because I was interviewing an artist who I had come to respect to an extreme degree, but because I had been working to get this interview for months, and it had all miraculously come together.
There was a knock at the door, and through it came Lorin Ashton ― Bassnectar himself. He ignored my outstretched hand and gave me a big hug; my anxiety was gone. We shuffled through some small talk and I got down to business.
Technically this is Bass Center 9, right? Can you elaborate on how this came together?
You know, I lost track but it probably is nine... To me it was more like, why don't we make one big Bass Center a year? I wanted to bring a festival spirit, and a festival aesthetic to our show. Kind of combine what happens when we get together and throw a full on, immersive show versus when we're just playing at a festival, and do kind of both. It's been really hands on out there, the whole crew is building out these worlds, and these campgrounds, it's been a tremendous amount of work. So usually I'm scattered and overwhelmed with any big, or important, event or show; just on the musical level. This has been, down to the granular. Worrying about everyone else's set, everyone's video, are the lines moving fast enough?...
... Read the full article by