Raves leave L.A. for the suburbs, but deaths and drug problems continue
Summary/Commentary:

With big-money events popping up everywhere, the L.A. market is pushing festivals to the suburbs following a long history of drug-related deaths.

This article originally appeared on LA Times
The heart of Los Angeles was once home to some of Southern California's most memorable rave concerts.
But the geographic center of the scene is rapidly moving east as the popularity of the concerts increases and concerns about drug abuse by ravegoers has sparked a backlash in Los Angeles County.
All of the region's biggest electronic dance music festivals are now held deep in the suburbs and exurbs of Southern California, centered in San Bernardino County. There, the rave scene has been largely welcomed by government officials and local businesses hoping for an economic boost from the large crowds.
But many of the problems that dogged the concert in L.A. — rampant drug use, overdose deaths and overwhelmed emergency rooms — have persisted.

Over the weekend, three young concertgoers at the Hard Summer concert in Fontana were stricken and later died.
The deaths have heightened debate about what more local governments can do to regulate raves.
"This is extremely disturbing," said L.A. County Supervisor Michael D. Antonovich. "This unfortunate incident demonstrates that proactive measures must be taken to save lives."

Hard offers a window into how the rave concert business has changed. The rave began about nine years ago as a relatively small event held in downtown Los Angeles.

Hard Summer has been making the move eastward after it was acquired by entertainment powerhouse Live Nation in 2012. In 2014, the event moved to the Whittier Narrows Recreation Area, where a 19-year-old woman fatally overdosed on Ecstasy. Last year, it was held at the Los Angeles County fairgrounds in Pomona, where two college students, ages 18 and 19, fatally overdosed on drugs.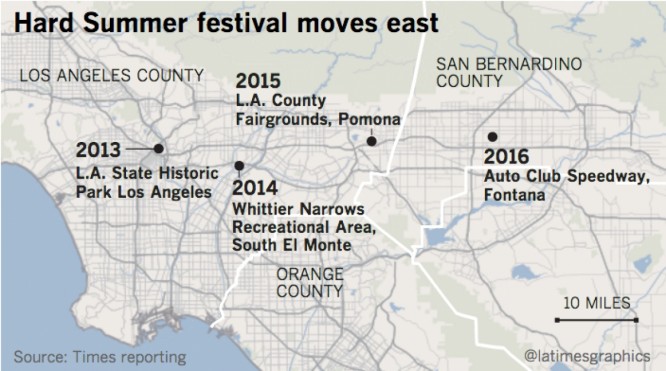 ...
Read the full story by Rong-Gong Lin II and Richard Winton at LA Times