What It Takes for an Independent Record Store to Survive Now
Summary/Commentary:

Record stores used to be a fundamental way to discover music, but since Napster brought the world file sharing sales have slowed. Here is an in-depth feature by Joel Oliphint of Pitchfork on Columbus, Ohio's too-rare-to-die Used Kids record store.

With vinyl records being the bedrock on which electronic music was built, we wanted to share with you the story of one record store's adaptation and evolution into the 21st century.

This article originally appeared on Pitchfork
It's the morning of this year's Record Store Day at Used Kids in Columbus, Ohio, and a line of collectors—including a few who staked out spots in folding chairs—is already snaking through the High Street sidewalk. The store's owner, Greg Hall, 54, bounds down a poster-filled staircase to greet the early risers with a huge grin and an open box from nearby Buckeye Donuts. With silver hair tucked under a ballcap, chain wallet looping out of his shorts, and hiking boots over his white socks, Hall is gregarious and instantly approachable. He laughs loudly and often; his guffaws make that oft-written but seldom verbalized "ha ha ha" sound.
At 8 a.m., customers flood the 30-year-old independent music haven, and the free doughnuts and coffee give way to pizza and cans of PBR on ice. Local indie rockers and rappers perform on a stage in the back of the windowless store, which feels worn and lived-in but less dusty than in years past. Racks of records—organized by handpainted, yellow-and-black signs—sit in black bins perched on cinder blocks atop a faded checkerboard floor. Even though Used Kids occupies an upstairs space, it smells like the basements where much of the store's used stock originated.
By mid-afternoon, the sought-after Record Store Day releases are picked over, but customers continue to pour in. One woman searches in vain for an exclusive 7" by My Chemical Romance frontman Gerard Way, while a local MC on deck to perform browses the jazz section. The shop feels vibrant, energized, like it did in the mid-1990s, when the CD boom flushed Used Kids with more money than previous owners Dan Dow, Ron House, and Bela Koe-Krompecher knew what to do with: The store grossed about a million dollars annually in 1996 and 1997.
Like most record stores, though, Used Kids struggled through the first decade of the 2000s—not to mention the fire that destroyed everything in 2001. It reopened, but sales slowed. Employees left or were fired. But while fellow legacy stores like Ear X-tacy in Louisville and, more recently, Other Music in New York, closed up shop, Used Kids somehow survived.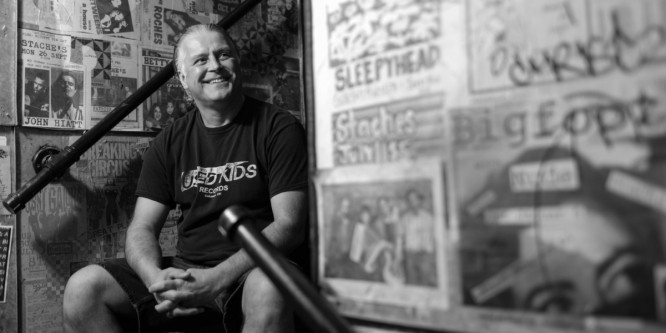 At this point, the independent record store is an endangered species, and only the shops that are willing to change and adapt have a chance at surviving in an environment where music communities have migrated online. With all the talk of a vinyl resurgence over the last several years, it's easy to forget that the format still represents only 12 percent of physical album sales. It's not like the 1980s and early '90s, when you needed two hands to count the number of record stores on this stretch of High Street across from Ohio State University. This year, on Record Store Day, Used Kids is the sole remaining music shop in the campus area.
In the fall of 2014, Greg Hall bought Used Kids in hopes of carrying it into the future on High Street. But right before Record Store Day in April, he got some unexpected news: The owners of the building housing Used Kids had ideas for the space that didn't involve the store remaining there long term. Hall could either close and liquidate or move. Closing was a last resort, but relocating would mean leaving the area the store had called home for decades.
Used Kids' presence has always been an integral part of Columbus' music scene, from the clerks behind the counter who launched labels, started cult bands, and booked rock shows at nearby venues, to the hunched crate-diggers who forged friendships over racks of wax. If Used Kids were to close, a cultural legacy would die with it, and its death would raise the question: If an institution like Used Kids can't make it, who can?
...
Read the full story by Joel Oliphint at Pitchfork