New Theory Links Graffiti Artist Bansky to Massive Attack Member
Banksy has long been a globally recognized figure for his graffiti art which uses intense symbolism as a means of social commentary.
His art can be found in cities around the world, and with his art comes intrigue. Banksy has never revealed his true identity which has increased the intrigue into the artist's work and symbolism. Although there have been made guesses into his identity in the past, a new theory presents itself, adding new possibilities to the artist's mysterious character.

As reported by The Daily Mail, investigative journalist Craig Williams, 31, believes that there may be a link to the graffiti artist and British trip-hop duo Massive Attack.
Williams suspects that Massive Attack member Robert '3D' Del Naja is in fact Bansky, or is associated with Banky's art. Upon looking into the artist's background, theory is definitely intriguing. Williams has plotted 6 instances when 12 or more art pieces appeared shortly after Massive Attack has performed there.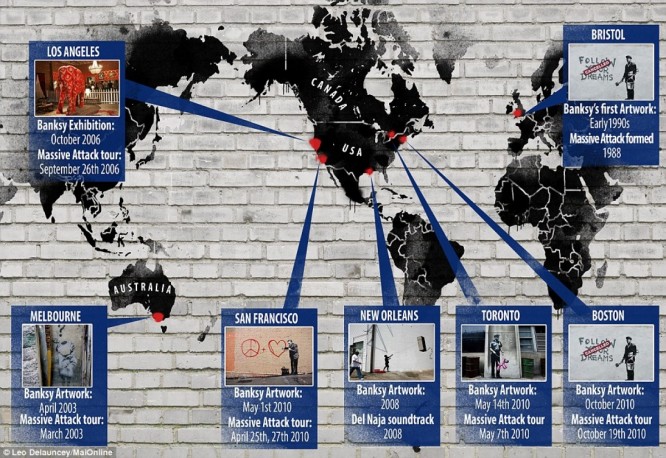 While Massive Attack helped to popularize trip-hop with their albums Mezzanine and Blue Line in the mid-90's-00s, so did Banksy help to popularize stencil graffiti art.
Here are several points that Williams use to support his theory that the identity of Bansky is connected in part to Massive Attack.
Robert '3D' Del Naja first became known as Bristol's first graffiti artist
3D has mentioned that he is friends with Bansky and appears in the Banksy documentary Exit Through the Gift Shop