Imagine Music Festival Claims Crown as Premier EDM Fest in the South
Imagine Music Festival is officially one of the fastest-growing and most creative festival productions in electronic dance music. IMF hosted 45,000 dance music fans at the Atlanta Motor Speedway over the weekend of August 26-28, 2016, marking its third annual event and its first year as a camping festival.
Founders Glenn and Madeleine Goodhand were elated with the turnout for the event, having previously predicted an audience closer to 30,000.

"The magnitude of growth we experienced this year is humbling," founders Glenn and Madeleine Goodhand told Atlanta Business Chronicle. "The Atlanta Motor Speedway has endless potential and we look forward to growing into the massive site."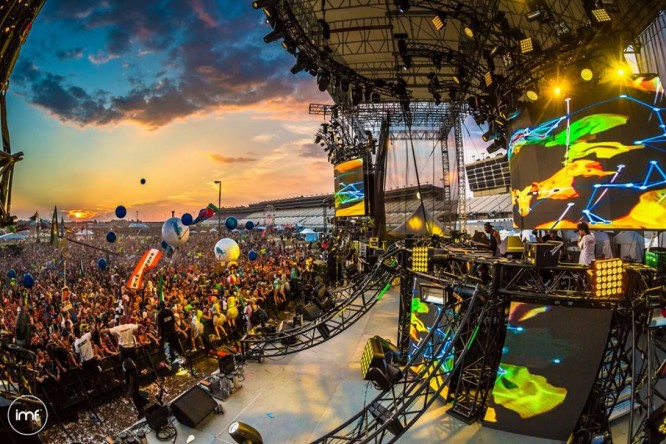 Brought to you by Iris Presents, IMF transported fans to an aquatic dreamland complete with seven ornate stages and a lineup that proved to be one of the most impressive combinations of headliners and local heroes.
Despite some (rather comical) noise complaints from nearby counties and a few issues with water stations (both to be expected for the first year of a camping festival), the dance music community overall is commending IMF for its attention to detail in creating a beautiful and distinct festival experience - from the dreamy stage designs and clean campgrounds to the portable phone chargers and the live water show that benefited the AQUA clean water and education charity.
Attendees are still raving about the many highlights from the weekend, including Dillon Francis' first headlining festival set as DJ Hanzel, the dirty throwdown delivered by Borgore, the eye-popping visual performers and dancers, the awesome pool parties and water slides, the delicious food... the list goes on!
"While watching our performers throw out balloons to the crowd on the last night, seeing all the thousands of smiling, happy, dancing people, it reinforced to me why we do what we do. Even with all the stress, all the long hours...those moments are what we live for." - Chris Lyda, Director of Public Relations at Iris Presents.
Check out some clips from a few of the best sets below!