Deadmau5 Closes Out the First Day of Ultra Singapore (LISTEN)
This past weekend, Ultra Music Festival debuted a new location in Singapore.
The luxurious island city-state attracted fans from all over the world with a massive line-up featuring Afrojack, DJ Snake, Kygo, Above & Beyond, and of course Deadmau5.
Deadmau5 was the headliner of Day 1, closing out the first night of the 2-day festival. Luckily, his set has been recorded and uploaded to MixCloud for your listening pleasure.
The good people of Reddit's /r/deadmau5 thread have provided the set's tracklist:
1. deadmau5 - 3 Pounds of Other Stuff w/deadmau5 & Kaskade ft. Skylar Grey - Beneath With Me
2. deadmau5 - Avaritia w/deadmau5 ft. Chris James - The Veldt (Acappella)
3. deadmau5 ft. Chris James - The Veldt
4. deadmau5 - FML (Live Intro Edit) [no ID after]
5. deadmau5 - Take Care of the Proper Paperwork
6. deadmau5 - Some Chords (Special Intro Edit)
7. deadmau5 - Some Chords (Dillon Francis Remix)
8. deadmau5 - Maths
9. deadmau5 - Maths (Cobra Effect Remix)
10. deadmau5 - Moar Ghosts N Stuff
11. deadmau5 ft. Rob Swire - Ghosts N Stuff
12. deadmau5 - Professional Cat Thruster
13. deadmau5 - No Problem
14. deadmau5 - Singapore
15. deadmau5 - Strobe
H/T: Dancing Astronaut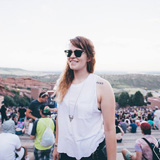 Devin Culham
Born and bred with the Detroit techno scene, I pledge my allegiance to the underground.