Boys Noize Gets Gritty With New Video for 'Snowden' OST
Boys Noize just dropped his single "Mayday" in association with the new film Snowden
The acid-tech track is being featured on the new biopic starring Joseph Gordon-Levitt as former CIA employee Edward Snowden.
The video for "Mayday" features cryptic scenes of public espionage, which Edward Snowden made the world privy to by leaking classified NSA information in 2013.
"Mayday" is featured on both the Snowden Original Soundtrack and Boys Noize's 2016 full-length album of the same name.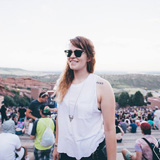 Devin Culham
Born and bred with the Detroit techno scene, I pledge my allegiance to the underground.