Electric Forest HQ Confirms 2 Weekends in 2017, Shares Details
Earlier this week, rumors circulated through headlines that Electric Forest would be expanding to 2 weekends in 2017.
Today, the team behind Electric Forest confirms that the festival's 7th incarnation will take place across two dates: June 22nd-25th and June 29th - July 2nd, 2017.

The official announcement shares details about what the future of Electric Forest will look like.
One of the biggest questions from fans has been whether the line-ups will be the same across each weekend.
Electric Forest details what to expect in 2017:

There will be some musical artists who will appear on both weekends. However, these artists will perform different sets of music each weekend that take us on a deeper and more diverse journey through their creative explorations.

Some musical artists will perform on one weekend only, and some will perform multiple times throughout that weekend, but their performances will not be repeats. Instead, they will perform different sets of music tailored for different times of the day and night.
In order to meet with the demands of the ever expanding festival, Electric Forest has also announced that each weekend will host crowds that are 10% smaller than 2016. Additionally, the festival shares that initial line-ups will be announced prior to on-sale, with options to purchase early-entry for both festivals.
Electric Forest Founder and President of Madison House, inc, Jeremy Stein, announced in a press release that the festival is always looking ahead:
"Immediately after each year of Electric Forest I dream of what it can become in the future... There is not a formula. We do not try to match the past. Instead, we challenge ourselves to raise the bar while writing a new chapter. Our collective goal is to propel creative experimentation and cultural exploration. By combining the past, present, and ideas for the future, Electric Forest can take a new and exciting form each year."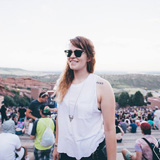 Devin Culham
Born and bred with the Detroit techno scene, I pledge my allegiance to the underground.