Lane 8 Cancels Show in Miami Amidst Zika Concerns
Lane 8 has unfortunately had to cancel his November 11th performance in Miami due to Zika concerns.
The Zika virus which has captured headlines for being a mosquito-borne illness that can cause those bitten to experience symptoms of fever, joint pain, rash, and red eyes. Zika is especially dangerous for pregnant women, as the virus can be passed to the fetus which can cause severe birth defects.

Lane 8 has decided to cancel his performance at Miami's 1306 due to concerns for his pregnant wife.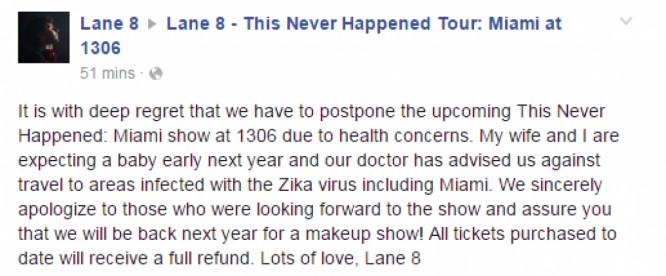 This Never Happened Tour has been piquing the interest of fans and critics alike for suggesting that fans do not bring their phones to the dancefloor. Last Summer, Lane 8 wrote a think-piece post on dancefloor distractions which has made us reconsider pulling out our phones at shows.
This Never Happened Tour will continue across 18 dates, including two other Florida performances.
Although fans are sure to be disappointed by the cancellation, Lane 8 has promised to return for a make-up show in 2017.
H/T: EDM Tunes