EDM's 'summer of death' reporting is more than just tabloid raving
Summary/Commentary:

After Kaskade clapped back at the LA Times for blaming drug deaths on EDM, Dennis Romero from The Guardian discusses the problem from the viewpoint of the scene. If we don't check ourselves first, there might not be much music left to dance to.
In 2010, around the time of the last raves held at the Los Angeles Memorial Coliseum, former venue officials made the argument the parties there were no different than beer-fueled American football games held there. At the Los Angeles Rams' season-opening home match at the Coliseum last weekend, at least 158 people were hospitalized for heat-related issues. (Temperatures were in the 90s.) But there was one huge difference: nobody died.
Over the past 10 years there have been at least 25 drug-related deaths at parties hosted by just three LA-based rave promoters, the Los Angeles Times found. Parties such as Electric Daisy Carnival (EDC) in Las Vegas have seen multiple drug-related deaths since moving there from the Coliseum in 2011. At Hard Summer this year, three patrons died. The cause is still under investigation. Last year two teenage girls died after attending Hard Summer. Both deaths were MDMA-related, coroner's officials said. In the wake of these tragedies, and with a background of fewer venues willing to take risks on dance events, Hard announced it is not hosting its annual Day of the Dead festival in LA.
Like in London, where one of the world's greatest dance music venues, Fabric, appears to be no more due to factors triggered by the drug-related death of two teenagers in August, Los Angeles is in the midst of a rave crisis. Almost all of the city's rave deaths are ecstasy-related, according to coroner's conclusions. Yet for more than 20 years the electronic dance music scene has been blaming everything but itself – the media, "bad batch" pills, lack of party skills – for its drug problem. MDMA deaths have been constant here since the dawn of the 90s, when British ex-pats organized some of the first American raves in Los Angeles. In 1999 five teens died when the car they were in plunged off a mountain road following a rave(Ecstasy was one of the main drugs found in the victims' bodies).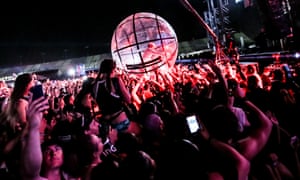 Since those days the culture has returned to harm reduction as a means to combat the fatalities. DanceSafe, an organization that promotes health and safety within the electronic music community, believes ravers need a safe place to play where there's plenty of free water, pill testing and space to cool down. Sounds reasonable. But pill testing, which has been embraced by some countries, can lead to a belief that ecstasy isn't a cause in these deaths.
...
Photos courtesy of Chelsea Lauren/REX/Shutterstock