What So Not and Skrillex Reveal New Version of 'Goh' Collab
What So Not and Skrillex recently previewed a new version of their unreleased collaboration 'Goh'.
The collab which first debuted in 2014 made the sets of several What So Not and Skrillex performances, but recently hasn't seen much airplay.
Until now.
At OWSLA's recent 5 year anniversary party, What So Not and Skrillex debuted a brand new re-work of the track which has rekindled hype about the old fan favorite.
Although there has been no word yet whether 'Goh' will see a full release, we hope that the track's resurfacing will rekindle the idea.
H/T: Stoney Roads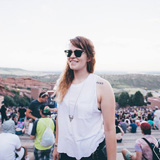 Devin Culham
Born and bred with the Detroit techno scene, I pledge my allegiance to the underground.