Party-rocker Andrew W.K. has released his first ever EDM single with the help of producers MAKJ and Timmy Trumpet
The new release "Party Til We Die" via Spinnin' Records is a big room twist for the alt-rock jokester. According to Billboard, MAKJ had been working on the track long before meeting Andrew W.K. at Ultra Music Festival last spring.
In an interview with Billboard, MAKJ shares:
"Finding the right person for this song was a long and hard challenge, but having Andrew W.K. featured on his first dance tune was well worth the wait."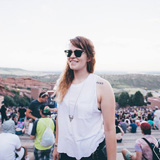 About the Author
Devin Culham
Staff Writer
I like electro. I like retro. I like ghetto. House and techno.