How White Kids Stole House Music from Black Aunties
Summary/Commentary:

In this thought provoking read, CJG Ghanny argues that the significance of black musician's contribution to the creation of house music has been downplayed by society. What do you think?

This article originally appeared on Medium
"Let me tell you something about house music. It's not just a groove; house is a feeling…"
So goes "The Word" — a classic a cappella by Chicago producer Aaron-Carl Ragland, since sampled on countless white label records played in club basements from the East Village to Edinburgh. It's a short piece, but one with a universal message. In a proud and defiant timbre Ragland continues: "It doesn't matter where you come from… For in my house, we are all free. One nation. God's children coming together in the spirit of house."
It's a tempting telling; that on the club floor, four-count beat and bassline pulsing in time, all of us can find liberation, no matter our creed or color or sexuality. It's a message that is sold elsewhere, in wicked incarnations; that if we just come together as one, we can be truly free in our "post-racial" society. Because all lives matter, right? Regardless, it's an efficient thought, and one that might help clear our collective conscience if we deploy it properly.
Honestly though, I don't buy it.
I don't buy it because black peoples' contributions to music have been downplayed since black people have been an established social class in society. By now, most of you might know that Elvis Presley didn't invent rock and roll; black musicians were taking elements of blues and turning it up to eleven years before Elvis gyrated his pelvis all over national TV. In more recent history, Gen X white fave Madonna got credit for the genre and white-folk dance-craze "voguing," which actually originated from the black and Latino ballroom scene, a credit that led house aficionado DJ Sprinkle to declare his dancefloor a "Madonna-free zone." (Interestingly, Madonna was selling the same message: "It makes no difference if you're black or white," she boldly sang on the very same track.) Today, the internet continues to drag Iggy Azalea by her extensions for being a failed Australian pop star who got famous rapping like a cornier and coked-up version of Rasheeda from Love and Hip-Hop: Atlanta.
If you thought house music was exempt from this sort of anti-black bacchanal, you thought very, very wrong. White house DJs and producers owe millions of dollars in recognition and royalties to black musicians who came before them. What you're about to hear is how one tribe of house producers got away with and continue to get away with theft.
Do not adjust your stations, this is not a test.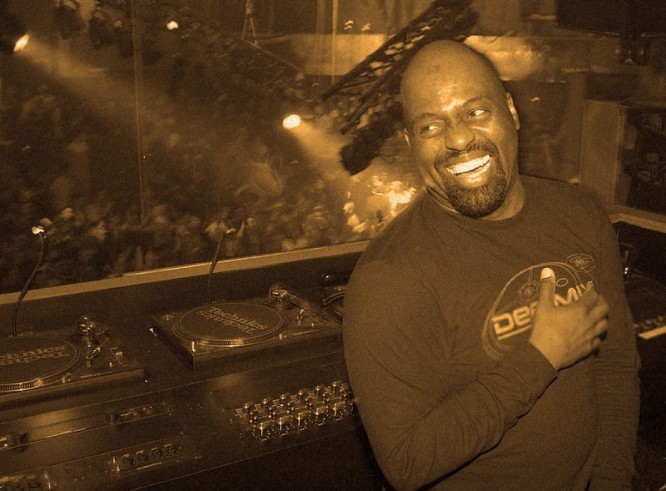 "Ooh, that's my jam!"
If you invite your black American friend over for dinner and your Spotify soundtrack includes, say, "It's a Love Thing" by The Whispers, they will assume one of two things: either one, you just came back from a cookout teeming with aunties and uncles and who-invited-them-anyway cousins rapping the dozens; or two, you are about to fit them in yellow rubber gloves and make them clean the entire house.
This is an exaggeration, of course. But such songs, the kind that make even bespectacled and big-wigged church ladies bust out into a two-step on the back lawn, hold special significance to the African diaspora here in the United States. They encapsulate an era of black musicianship, falling between 1975 and 1995, when the rest of the country (read: white people) were devoting themselves to "Hotel California" and Joan Jett, hairspray metal and Nirvana. This is what the internet has dubbed "auntie music" — a brand of old-school R&B, quiet storm, boogie, post-funk and post-disco appreciated mainly by the Janices and Jocelyns among us, the soundscape for every black family cookout before "woke" white people on Twitter started getting invites. This is unequivocally black music.
Black music that is devalued. When I started crate digging at age 15 it was easy to find three-for-a-dollar vinyl of black bands of ages gone by. My favorites were the hybrid funk-disco of Shalamar and Dynasty, but I had a soft spot for the "little girls with big voices" too — Jocelyn Brown, Stephanie Mills, even Jody Watley after she went solo from Shalamar midway through the 80s. Add to that the electro-boogie that the 80s themselves ushered in — Kashif, Cheryl Lynn post-Gong Show, and her producer Ray Parker Jr., before the theme from Ghostbusters propelled him to one-hit-wonderdom — and a splash of soul from reinvented disco acts like Tavares and Brass Construction, and you end up with a technicolor palette of music of the African Diaspora from which to pull an endless amount of bangers, bops, and ballads from days gone by. All on a teenager's salary at that.
Now, this music wasn't equivalent to utopia — looking at that Shalamar video, we're led to wonder why light-skinned Howard Hewett is given center stage and top vocal billing over darker-but-more-talented bandmates Jeffrey Daniel (peep the afro) and Jody Watley (sorry, I just really love her if you couldn't tell already). But no one can deny this music had something — soul, melody, groove, a feeling, etc. — that the white music establishment did not and could not provide.
House music, too, is black music. The genesis of house is generally tied to Chicago DJ Frankie Knuckles, and the name "house" comes from The Warehouse, the club where Knuckles held a residency. The Warehouse, interestingly enough, catered to a mostly black gay clientele in those days; Knuckles gushed in an Ebony interview that in "the beginning, it was a predominately black gay club [but] as people began to learn about it, we started renting the place out on Friday nights for a lot of fraternity parties." (Aaron-Carl, quoted above, was also black and gay. He died of lymphoma in 2010.) By the mid-90s, Knuckles was touring all over the world and playing out house remixes of artists as esteemed as Diana Ross and Michael Bolton.
For a while, the opportunity for widespread appreciation of yet another black musical invention was once again a possibility.
...