How Trance is Making a Legitimate Comeback
Summary/Commentary:

While the era of 00's trance with frosted blonde tips and deep tans is over, trance is having a major comeback and is even being heard in techno sets
A few weeks ago, I walked into Amnesia's club room at Cocoon to check out Nina Kraviz. I'd recently seen her play heavy acid techno at Kappa Futur Fest, and was shocked to suddenly hear an incredibly familiar '90s trance melody washing through the speakers. When the breakdown was over, the crowd lost it, which set me wondering if a trance comeback was upon us.
Of course as you might well know, trance is a dirty word in dance music. A label few "underground" DJs would ever be comfortable with carrying. And while the term itself is not nearly as reviled and divisive as EDM these days, it certainly hasn't been cool in a very long time.
Some background: The zenith of trance's popularity came in the late '90s to early '00s, when DJs like Paul Oakenfold, Tiësto and Ferry Corsten played to stadium sized crowds dressed in cyber-kid apparel with Mitsubishi logo facepaint, in homage to the legendary pills of the era. Laced with uplifting melodic hooks, big emotional breakdowns, and acid-heavy bass lines, it felt almost custom made for dropping a good pill with your friends, reaching for the lasers and having the time of your life.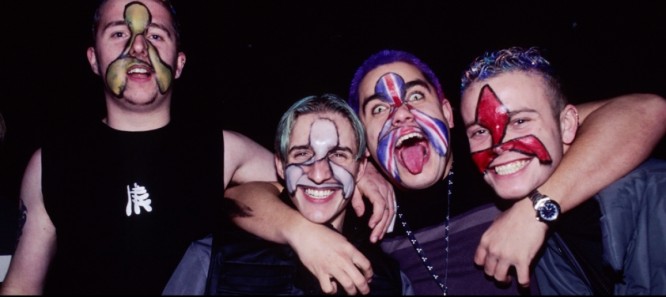 And for the most part, it wasn't yet cheesy. But even then, as good as some may remember it (myself included), it had long been considered "over" by more knowledgeable crowds, looked down upon as an entry level style of dance music only good for keeping undesirables away from more clued-up gatherings. But what happened? This was a genre pioneered by the likes of Jam & Spoon, The KLF, and most importantly, Sven Väth, whose labels Eye Q and Harthouse released genre-defining albums like 1992's Accident in Paradise and 1994's The Robot, The Harlequin and The Ballet Dancer. It was the sound of Berlin's Love Parade for years, full of techno-based rhythms and inspired musicality — miles away from the sappy, contrived, formulaic drivel it wound up becoming (and still is today).
As is all too common, what the genre gained in popularity it lost in originality, becoming a cheap copy of the original blueprint laid out by its founding members. And consequently, even as all things old school continue their unstoppable comeback, trance has remained one of the few early dance music genres not to see a resurgence in the world of house and techno — until now. T
here have been hints of this coming for a while, in the trance-inspired melodies in techno that have taken hold in the last few years. Acts like Solomun and Tale Of Us have made careers out of weaving dark, emotive techno with trance-inspired melodies. But few would call it trance (other than Mixmag, who dubbed this sound "man trance"), and aside from the fact that it occasionally uses synth-based melodies and vocals, shares very few characteristics with the roots of the genre. Plus it's usually melancholic, something trance rarely is.
...