Deadmau5 Fights Fan Criticism for Playing 'Actual Techno' on NYE
New Year's Eve wasn't quite the party some people were expecting during a recent set from deadmau5 during his performance at Decadence Arizona on December 31st
Apparently, some people weren't feeling deadmau5's track selection for his set, as fans lashed out at deadmau5 for a boring set that included Maceo Plex's highly popular "Solar Detroit". Despite the fact that the track was one of the most popular records of 2015, and has helped cement the Barcelona-based DJ as one of the most highly sought after DJs in the world, the kiddos just don't know how to handle a little techno.
Here's what the fans had to say:
The mau5 responds:
What do you think? Was his set really that bad, or do new fans just not understand that good music can be more than just the big hits?
Deadmau5 Decadence Arizona NYE Tracklist:
deadmau5 – Imaginary Friends
Noir & Olivier Giacomotto – Reste(Raxon Remix)
deadmau5 – Avaritia
deadmau5 – Three Pound Chicken Wing
deadmau5 & Kaskadeft. Skylar Grey – Beneath With Me(Acappella)
deadmau5 – FML
deadmau5ft. Rob Swire – Ghosts 'N' Stuff
Guy Mantzur & Roy Rosenfeld – Systematika
Tony Rohr & Layton Giordani – Careless Suggestions
Raito – Elevation
DJ Deep & Roman Poncet pres. Adventice – Chop Chop
Inner Universe – Ghost In The Shell
deadmau5 – Sometimes Things Get, Whatever(Acappella)
Jay Lumen – LondON
Maceo Plex – Solar Detroit
Morgan Pageft. Lissie – The Longest Road
deadmau5 – Polaris
deadmau5 – Strobe
deadmau5 – No Problem
H/T: EDM Chicago
Cover photo courtesy of C Flanigan/WireImage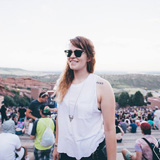 Devin Culham
Born and bred with the Detroit techno scene, I pledge my allegiance to the underground.