Claude VonStroke Tosses Alias for New Barclay Crenshaw Album [LISTEN]
Barclay Crenshaw is stepping out of the shadows of his well-known Claude VonStroke and away from his famous tech-house style for a new flavor that shows off the producer's love of hip-hop.
Barclay Crenshaw's self-titled debut is a 10-track album that is a futuristic take on sexy hip-hop slow jams. Fusing Barclay's talent for minimal beats with slow-motion trap sequences, Barclay Crenshaw showcases his skills and versatility producing across genres. But no album can truly be considered hip-hop without spittin' a few bars, which is featured in strong appearances from The Underachievers, Lady Chann, and The Cool Kids. Sultry vocals from Aviella on "Hidden Harmonics" helps to boost the albums cross-over potential, while a collaboration with Mr. Carmack on "My Dog Knows The Truth" brings together fans of old-school hip-hop with forward thinking electronic music.
Catch the Dirtybird boss when his debut Barclay Crenshaw tour hits your city!
US Tour Dates

1/25 - Low End Theory - Los Angeles, CA
2/01 - Holocene - Portland, OR
2/03 - Cervantes' Masterpiece B. - Denver, CO
2/04 - Double Door - Chicago, IL
2/10 - Bardot - Miami, FL
2/11 - Kingdom - Austin, TX
2/16 - House Of Yes - Brooklyn, NY
2/17 - The Sinclair - Cambridge, MA
2/18 - U Street Music Hall - Washington, DC
2/22 - Q Nightclub - Seattle, WA
2/23 - 1015 Folsom - San Francisco, CA
2/24 - Bang Bang - San Diego
2/25 - The Roxy - Los Angeles
Cover photo courtesy of Katrina James & Resident Advisor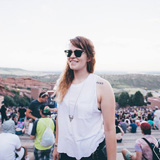 Devin Culham
Born and bred with the Detroit techno scene, I pledge my allegiance to the underground.