Further Future Announces Postponement But Makes Promise to Return
Further Future, a transformative music, arts, and wellness festival held in Moapa River Indian Reservation near Las Vegas, Nevada, has just announced that it will be taking the first half of 2017 off to reshape and evolve.
In an official statement, Further Future shared the news with fans:
"With the first two years behind us and a mission and set of values to guide us as we move forward, we are now focusing on the evolution of the Further Future concept. In order to devote the attention required to do so, we will not be holding a large event in the first half of 2017.
Instead, we will use the time to explore and experiment with various alternative forms the Further Future concept and values might take, and we look forward to experiencing them with you in the coming year."
The community focused event, which was founded by popular Burning Man art car collective, Robot Heart, played host to many similar egalitarian principles as its Black Rock cousin. Further Future, began its story only two years ago, featuring a fusion of art, innovation, and intentional community. Fusing together the sound of deep electronic music under the vast Nevada skies, past editions have featured the high-concept sounds from artists like Lee Burridge, Dixon, Nicolas Jaar, Damien Lazarus, and DJ Tennis.
Luckily, this postponement is only planned first half of the new year, meaning that there is a possibility that this festival will be taking place near the end of 2017. We are excited to see what changes and improvements they plan to bring into the world of Further Future Festival. For now, all we can do is wait and hope to see this event take place before the new year

H/T:Billboard
Cover photo courtesy of Ellie Pritts/Desert Future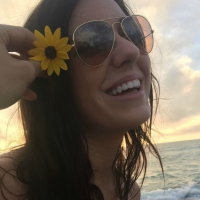 Rachel Woods
My hobbies include long walks to the main stage, pretending I know how to shuffle, and searching the Internet for sick new drops.