Special Request Joins Beats 1's One Mix to Debut Hand Selected Track [Interview]
Paul Woolford has long been a figure in the house and techno scene, having transversed the globe time and time again to perform at the world's most prestigious nightclubs. Whether he's traveling from Tokyo, to Ibiza, or to Fiji, Paul Woolford's ability to conduct an immersive musical experience has solidified his reputation with fans and industry colleagues as a class act selector and producer.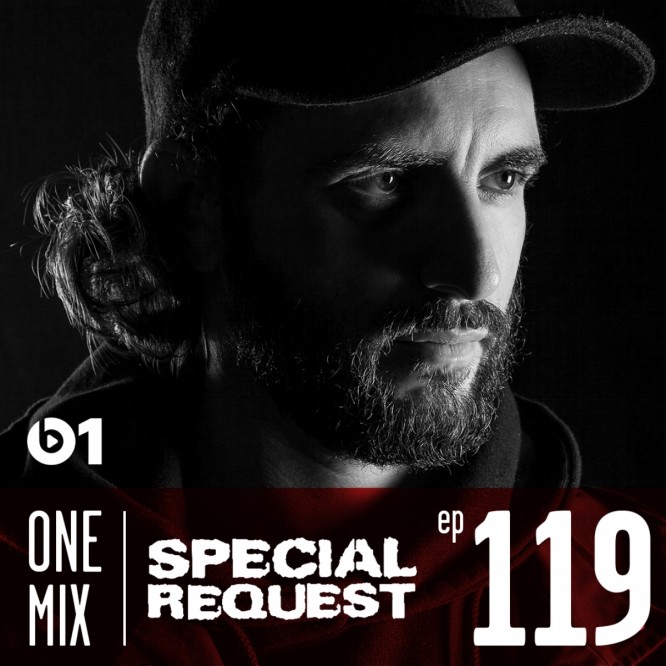 With several enigmatic aliase – each distinct in their sound and scope – Paul Woolford pushes the boundaries of sonic exploration with his keen ability to experiment with sound and genre. His latest inception as Special Request sees Woolford revist an artistic concept inspired by the pirate radio stations of his native U.K. Similar to the anti-establishment ethos of pirate radio, Special Request demonstrates Woolford's ability to play what he likes, exactly as he likes it.
His latest album Belief System (which just dropped on all major music retailers) fully encompasses this belief, as Special Request defies any music box you try to put him in. To celebrate the new release, fans will get a the chance to hear plenty of deep cuts as Special Request takes to the airwaves for a special session with One Mix on Beats 1, Apple Music's global radio station.
Tune in today starting at 4pm PST to hear all of the crucial cuts courtesy of Special Request. Featuring new tracks "Adel Crag Microdot" and "Scrambled in LS1" from Belief System, and musical highlights including Aldeln Tyrell's "Obsession Btz," you'll have plenty of new material to increase the breadth of your music collection.
Before hitting the mic with a "Check 1, 2..." One Mix caught up with Special Request to get some much needed details. Read on to see what makes the cut for Woolford's must-have desert-island record, why there's no such thing on having a favorite BPM, and his best advice for new producers.
---
Your first experience playing a show?
A birthday party for a friend when I was 17 - I played a load of hardcore and it was at somewhere called Club Mex in Leeds, which is now called Wire.
The first time you brought your mom to one of your shows?
Still to happen….
The artist who inspired you to become a musician?
Too many to list but without a doubt Picasso, Francis Bacon, Jam & Lewis, Damien Hirst (although he gets so much bad press, this still does not take away from what he has achieved with his practice), KLF, The Orb, Derrick May, Kevin Saunderson, Juan Atkins, Carl Craig, Basic Channel, MK, Goldie, Dillinja, Rick Rubin, Manuel Gottsching, Fleetwood Mac, Depeche Mode, the list is endless and this only scratches the surface
Your go-to place for new music?
Everywhere, all the time.
If there was one dance record to take with you on a desert-island?
Mannuel Gottsching's E2-E4.
Your guilty pleasure record?
I don't believe in guilty pleasures, I stand by my choices with conviction, not some sense of "shame" driven by insecurity about what others may think.
Your dream B2B partner?
The people that I play with regularly in back to back sessions are some of the best collaborators on earth, for me. They are Young Marco and Midland. I am always open to collaborating with my peers.
Your favorite BPM to play?
Bizarre to even try and have a favourite BPM, I play from dub to frenetic drum & bass so the range goes from 60-180…
The one piece of gear you always need on the road?
Apple MacBook Pro
What's your all-time favorite festival?
Glastonbury for the full experience
What do you think is the biggest misconception about dance music?
That it's just banging & mindless
How often do you get out and have fun, and where do you go?
As often as possible. I try to experience clubs from the perspective of a punter, and listen to as wider a spectrum of artists as I can on these days & nights. Outside of that, I love restaurants, art galleries, museums, I drink copiously from the culture well.
Which city has the most underrated dance scene?
It's hard to keep anything under the radar these days, but there are great things happening in Tbilisi in Georgia currently. I felt a unique energy in Kiev recently when I went over to play as a guest of Nastia at Strichka Festival
What's your industry prediction for the next year?
Less artists making "career" records and more records with genuine spirit, drive and innovation.
What's the best piece of advice for new producers?
Learn everything there is to know about what you do, and then forget it all and create from the heart.
Dead or alive, who would be your dream collaborator?
Kanye / Rick Rubin / Björk
What is one of the unique experiences you've had backstage?
What happens backstage stays backstage…
What are some of the more unique places you've traveled to?
All my trips to Japan are the things I look forward to the most. The people, the food, the culture. An incredible place.
What's the next festival you're performing at that fans need to check out?
Fuji Rock!
Follow Beats 1:
Tune In:
Follow Paul Woolford/Special Request: